Yesterday Intel confirmed several SemiAccurate articles about their server roadmap mess, just without the specs. From the roadmap itself you can see the names and dates we mentioned but not the important messages behind them.
In a leaked roadmap SemiAccurate first saw on Anandtech, Intel confirmed SemiAccurate's exclusive stories about Cooper Lake, Cooper Lake-AP, Ice Lake-SP, and Barlow Pass. There were no specs but if you read our articles, you get the core counts and dates in much more detail than Intel's current roadmap gives you.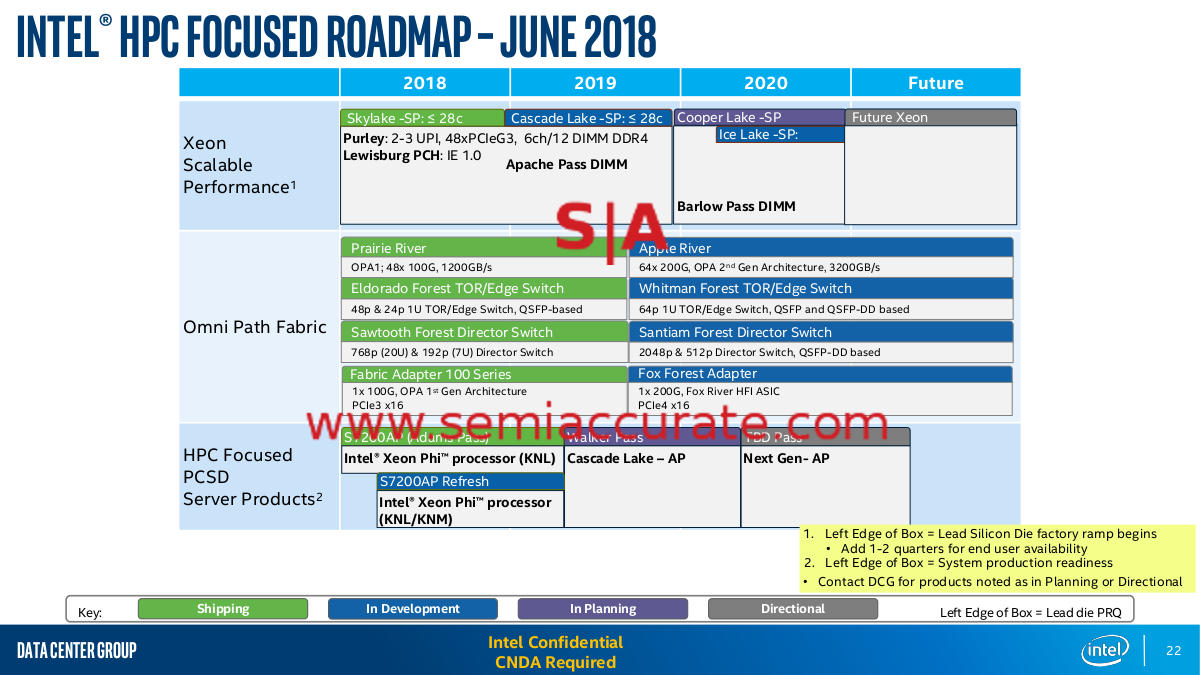 SemiAccurate's version has more details
Lets look at a few details and things that are not on the roadmap but Intel is telling their OEMs and partners. Starting out with Barlow Pass, Intel is not exactly straight about the way this second generation Xpoint DIMM is being released, it is actually coming out a bit before Intel is claiming and does work with Cascade Lake, but that might be fused off in the BIOS.
The problem with Barlow is simple, it is set to be released before Apache Pass is EOL'd. Actually given the ~3 year delay to Apache Pass, so far, Barlow will be out a couple of quarters after the release of Apache. This is of course for OEMs, officially they won't overlap on paper but the reality is quite the opposite. OEMs are something between unhappy and peeved about this, the release overlap makes their life harder for no gain.
That however is nothing compared to what Intel is doing with Cooper Lake-SP and Ice Lake-SP. SemiAccurate exclusively told you about the names, core counts, multi-die versions, 350W TDPs, the cooling mess, and much more. The problem is that the 14nm Cooper Lake and the 10nm Ice Lake directly overlap on the roadmap. Worse yet Cooper Lake is a last minute hack that was added to the roadmap in a panic last may.
Why do we say this? Other than being directly told it in May, you can see this panic on the slide. The four colors relate to the state of planning from near term to long term, from fully baked to rough ideas. They are Shipping, In Development, In Planning, and Directional in order of finished to vague ideas.. Ice Lake-SP which comes out in 2H-2020, a seeming slip from the earlier mid-2020, is In Development or the closest phase to production that isn't actually in production.
As we stand now, Cooper Lake-SP is the next one out in time, In Planning, but it is slated to come out earlier than Ice Lake-SP in early 2020. Does that sound like a well planned part or a panicked hack pushed onto the roadmap when Intel realized how broken the 10nm process was? Hint: It is the latter. The problem with this is that Intel is giving OEMs little to no guidance as to which one they should put their development efforts into. Do you make a Cooper system with all the associated costs and engineering or do you make an Ice Lake system that comes out a few months later? Both have significant development costs and suck up engineering resources.
Update Aug 15, 2018 at 11:45am: Intel has decided to put Cooper on the same platform as Ice. According to several sources this was not the case when we wrote this and earlier articles but we have no doubt it is true now. The platform costs will still be there but significantly lower as a result. Intel's guidance as to which to choose still seems murky at best.
Did we mention Cooper Lake-SP and Ice Lake-Sp are on different sockets, even different to what we have today, something the roadmap is meant to downplay? SemiAccurate talked to several OEMs who all said the same thing, when they asked Intel for guidance, Intel essentially told them to figure it out for themselves. If the Apache/Barlow mess made them unhappy, Cooper/Ice makes them both angry and scared. Most OEMs don't have the resources to shoulder this burden which effectively doubles their NRE while potentially halving the units they have to amortize it over.
Worse yet many fear one or both of these platforms might not actually come out. Why? Because both of them will be significantly behind AMD's Rome in performance and come out with overlapping times and performance envelopes. Don't forget AMD's Rome will be out in early 2019, with more cores, and Cooper isn't set to be released until about a year later. When coupled with the massive price increase for Cascade Lake and presumably Cooper and Ice too, the Intel server parts are simply not competitive. If you look at the silicon content of Cooper, there is no way the price will go down.
There are two bits not on the Intel roadmap that SemiAccurate has previously reported, what the names are for the future devices. On the -SP side the one after Cooper/Ice Lake-SP is Sapphire Rapids, the follow on to Cascade Lake-AP is called Cooper Lake-SP. This latter pair is the 350W liquid cooled devices on a different socket from their -SP brethren.
If you look at the Intel server roadmap on paper the news is pretty simple. If you know what is actually going on behind the curtain, coupled with double-digit price increases, and then add OEM frustration, you have a mess. If Intel had a performance lead it could all be papered over but starting in early 2019, Intel loses there too. These seemingly calm waters are anything but.S|A
The following two tabs change content below.
Charlie Demerjian is the founder of Stone Arch Networking Services and SemiAccurate.com. SemiAccurate.com is a technology news site; addressing hardware design, software selection, customization, securing and maintenance, with over one million views per month. He is a technologist and analyst specializing in semiconductors, system and network architecture. As head writer of SemiAccurate.com, he regularly advises writers, analysts, and industry executives on technical matters and long lead industry trends. Charlie is also available through
Guidepoint
and
Mosaic.
FullyAccurate
Latest posts by Charlie Demerjian (see all)