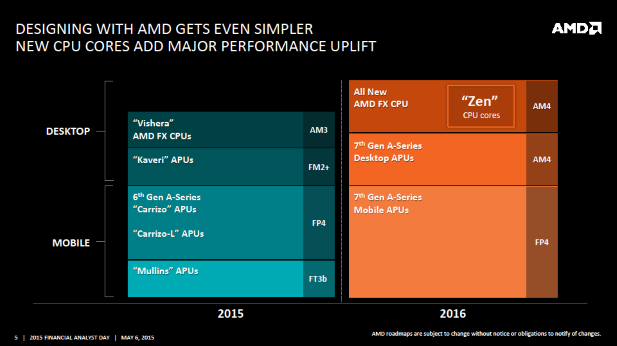 The departure of legendary CPU architect Jim Keller from AMD last month after a three-year stint has stirred fears that AMD's make-or-break Zen CPU architecture is in trouble. At its financial analyst day earlier this year AMD promised that Zen would offer 40 percent greater IPC than its existing Excavator CPU architecture. In the intervening time we've heard very little about the development status or composition of Zen.
All of that changed earlier this month when Matthias Waldhauer published a blog post detailing a recent GCC patch by an engineer from AMD. In this patch AMD released a number of important details about the basic architecture of Zen. The important points being that the Zen architecture has four instruction decoders to feed its execution pipes and ten pipes in total broken down into four ALU pipes, two AGU pipes, and four FPU pipes. Compared to Bulldozer, a single Zen core offers the same number of FPUs and ALUs as a complete Bulldozer module or dual core pair. Zen's L1 and L2 caches also appear to be significantly smaller than Bulldozer's a change no doubt aimed at remedying the biggest flaw of AMD's current architecture, long cache latencies.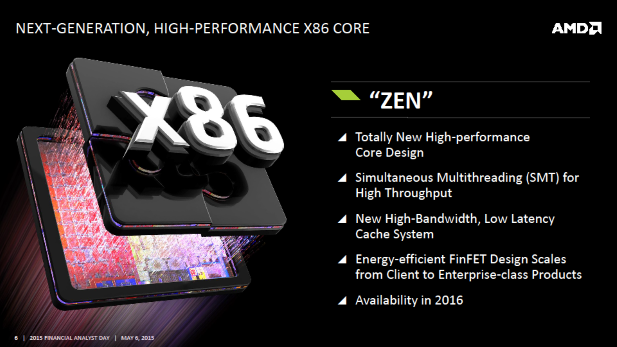 These disclosures paint a better picture of what to expect from AMD's Zen. What we see are the underpinnings of a wide, modern, high performance CPU core the leverages the traditional strengths of AMD's IP. Of course while we now know a little bit about the high-level design of Zen the devil is always in the details and the quality of Zen as a design is still very much an open question.
When questioned about the health of Zen on the quarterly conference call yesterday AMD's CEO responded directly saying, "Zen is on schedule for availability in 2016 and a first full-year of revenue, ramp, in 2017." This statement is consistent with what AMD has stated prior to the call.
When asked if Jim Keller's departure would have any impact on AMD's roadmap Dr. Su responded, "In terms of the long-term roadmap we are extremely committed to high performance x86 CPUs and there should be no confusion on that point." This is a stronger statement than we're used to seeing from AMD about their commitment to the x86 market especially given the move away from the high performance x86 market under AMD's prior CEO Rory Read.
She continued, "(There is) No question that the server market is attractive and data centers are attractive. We are very focused on it from an x86 standpoint." A statement that explicitly reconfirms AMD's desire to invest in x86 products aimed at the high margin server market.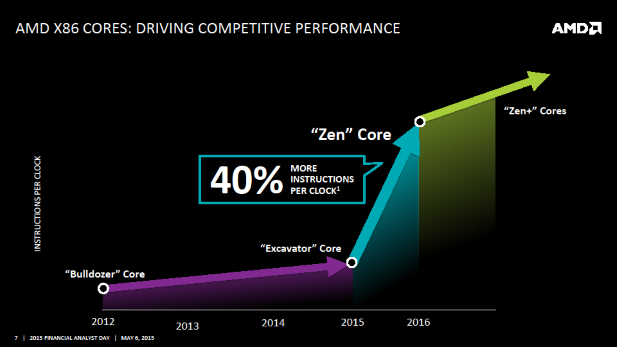 When asked for any details that could boost the confidence of AMD's investors in Zen, Su responded, "As we stated in the financial analyst day we had a target of 40 percent IPC performance with Zen over our previous generation. We believe we are on track for that."
And when questioned on where Zen is on its production schedule she told financial analysts, "Relative to process technology we taped out multiple products through multiple fabs in FinFETs and we believe that they are also on track in terms of overall ramp." Of course there are only three major foundries that have FinFET process nodes. TSMC, Samsung, and Global Foundries of which both TSMC and Global Foundries have worked with AMD before.
Based on a LinkedIn profile identified once again by AMD sleuth Matthias Waldhauer it appears that the designs and foundries that Dr. Su was alluding to were at least one Zen-based product built on Global Foundries 14nm FinFET process that it licensed from Samsung and another product built on TSMC's 16nm FinFET process using AMD's custom ARM core K12. Of course that could be a bridge too far and perhaps Dr. Su was referring to Semi-Custom and GPU designs. AMD as always has been hesitant to detail its roadmap or development milestones in public.
Needless to say, for those who are waiting on the edge of their seats for information on AMD's Zen architecture it's been an interesting few weeks. We still don't have a solid idea of how Zen will perform, but from what we learned about its high level composition there's plenty of reason to believe that it will outperform the current iteration of AMD's Bulldozer family of CPU cores. The real make or break question for the Zen architecture is not one of pure performance, but rather performance per watt. It will be a while longer until we have any meaningful data points on that metric.
For now, and despite the recent management shake ups at AMD, Zen appears to be in good health and on schedule for launch late next year. Let's hope nothing changes that assessment.S|A
The following two tabs change content below.
Thomas Ryan is a freelance technology writer and photographer from Seattle, living in Austin. You can also find his work on SemiAccurate and PCWorld. He has a BA in Geography from the University of Washington with a minor in Urban Design and Planning and specializes in geospatial data science. If you have a hardware performance question or an interesting data set Thomas has you covered.
Latest posts by Thomas Ryan (see all)