CES was mostly vast empty space with the interesting stuff almost completely shown by the little players, not the giants. That is where we found our first USB-C hub at a small company called Goodway.
Trying to fight the crowds at megabooths like Samsung and Toshiba is pretty much a lost cause during CES, a problem compounded by the near total lack of interesting items on the floor. The good stuff is hidden away in suites and barred by NDAs, exactly the opposite of what you expect from a trade show. Isn't the point of these shows to, err, show off the new stuff? Not anymore.
Luckily the smaller players still do show off new and interesting stuff, and better yet they want to tell you about the products. That is where we met Goodway, a small Taiwanese electronics maker that makes stuff that you kinda need. By stuff we mean adapters, docks, hubs, and the endless stream of boxes you need to go from a badly designed laptop to devices you actually use. This one is what caught our eye.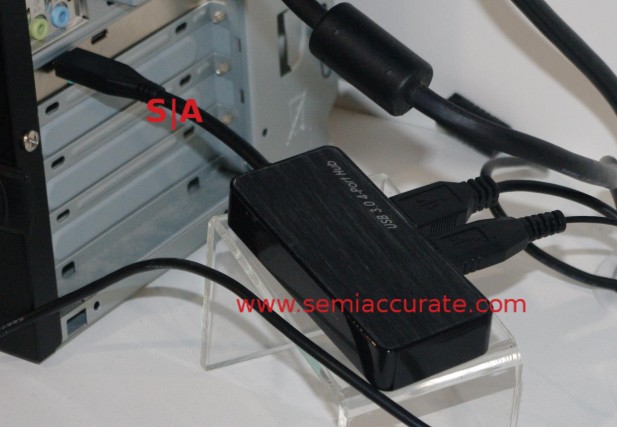 One in, four out, B, C, and 802.3az
The idea here is simple, it is a USB-C based hub with Gigabit Ethernet. The hub has an attached USB-C male cable. two female USB-B ports, and one female USB-C port plus the aforementioned RJ-45 for GbE. When the next Macbook comes out in March like we told you in August, this will be a very useful thing to have, trade in your Blunderbolt dongles while those still have 'value'.
If you want more than this hub, part number HE4130 should you need to buy a few, you are in luck. Goodway has USB based docks, port replicators, dongles, and dozens more widgets that are quite useful. It doesn't take much to get lost in their site mumbling to yourself, "gee, I really could use one of those for…." over and over. Wouldn't you want one of these in your travel bag?
And that is what CES has become, halls and halls of shiny, flashy emptiness punctuated by corners where companies like Goodway are relegated. Luckily they still have a lot of useful stuff and occasionally something really new and useful. Have you ever seen a production USB-C based hub or BC1.2 capable port? If you stuck to the megabooths, chances are you answered no to that.S|A
The following two tabs change content below.
Charlie Demerjian is the founder of Stone Arch Networking Services and SemiAccurate.com. SemiAccurate.com is a technology news site; addressing hardware design, software selection, customization, securing and maintenance, with over one million views per month. He is a technologist and analyst specializing in semiconductors, system and network architecture. As head writer of SemiAccurate.com, he regularly advises writers, analysts, and industry executives on technical matters and long lead industry trends. Charlie is also available through
Guidepoint
and
Mosaic.
FullyAccurate
Latest posts by Charlie Demerjian (see all)