It's not often you can get a journalist to say, "premium power bank" with a straight face but Lepow did twice. Not only that but they had a bunch of accessories at CES that had lots of potential.
It doesn't take much to wrap a piece of metal around a battery, slap a USB interface on it, and sell it for large margins. Having looked at many over the past few years, most are complete garbage. Worse yet some high-end brands put out low quality devices, things that looks good usually aren't, and it is nearly impossible to figure out if a power bank meets its specified charge numbers until after you own it. Buying these devices is hit and miss but usually it is a miss.
At CES 2014, Lepow's PR representative grabbed me and asked me to take a look at the company's booth. Having known this person for a number of years I trusted her judgment enough to look at their wares. They looked OK but how did they perform? She handed me a Moonstone and into my bag it went, unopened until I got home. When I cracked the box there was a pretty classy cloth pouch, a clever closing band, and a few extras like stickers and bits that screamed higher than average quality. While metallic stickers aren't my thing the power bank was quite solid-looking and feeling.
After a charge it went back into my bag where it stayed, the only power bank I have used and the only one I have really needed for the past year. It looks like a lime green hockey puck, you can see the same device in the bag picture below, and has low and high amp ports, indicator lights, and a button. Whenever you pick it up, the thing just feels good, it is just a battery in a plastic case but it really feels 'premium'. If I had to buy another battery pack, this one would be on my short list as would the ones below.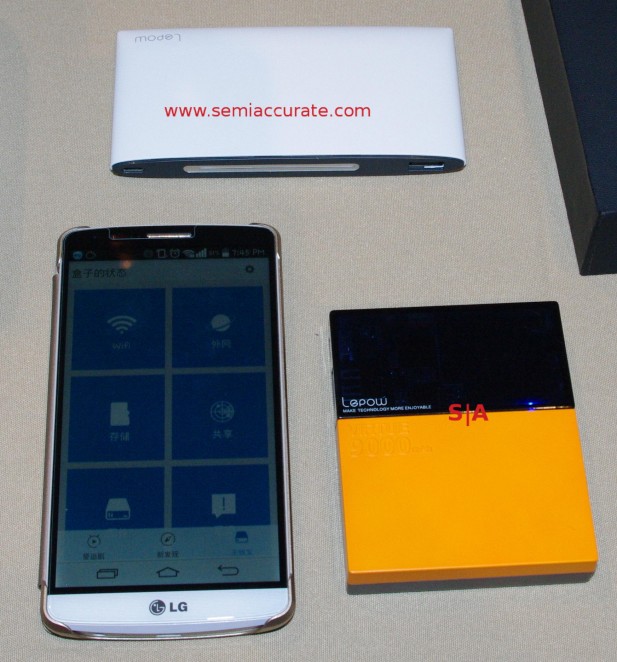 The new Lepow power bank and media player
This year there were two new power bank related, both premium of course, gadgets called Poki and Moovid. The Poki is a 5000 or 10,000mAh lithium polymer battery power bank with a very nice charge indicator, the metallic button on the front edge glows blue in the center to show charge. It looks great, feels solid, and according to a random stranger on a CES bus who bought one in Hong Kong, Poki works well too.
Moovid was a bit more interesting, one of a bunch of power banks with Wi-Fi and media storage and streaming capabilities. Take a 10,000mAh battery, add a Wi-Fi router/pass-through and either 32 or 64GB of internal flash. In this case the Moovid is solidly built and unlike many others, the software, running on the phone on the left, isn't appalling. I say that not because the Lepow software is great, it is very early and not nearly ready for release yet but it already has enough basic functionality. Several released products I have used haven't hit that high bar so the Moovid looks good already. Until it is released I won't give it the thumbs up but I will keep an eye on it, Lepow hasn't made a bad product that I have seen so cautious optimism abounds.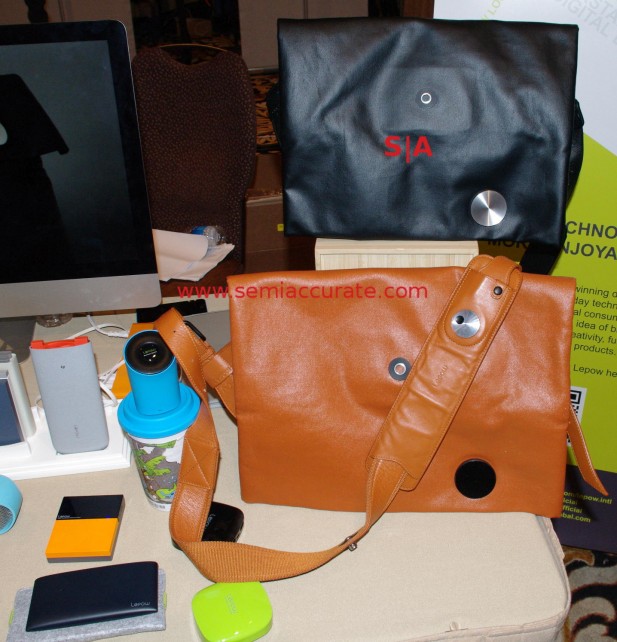 A bag called HiSmart
The last thing was not what I was expecting, an accessory in the fashion sense rather than the computer sense. This bag is called HiSmart and like the Moovid it is not fully baked yet, don't look for it soon. It is a waterproof messenger bag that converts into a backpack. The main bag is waterproofed canvas with a leather handle along with tons of interior nylon pockets. There is room for more than gadgets and just about everything else inside.
HiSmart has two features that caught my eye, the clasp and the remote control. The clasp is a German Fidlock miniturn lock, a half twist and pull mechanism that is fully sealed off from the environment when closed. Mechanical geeks will fiddle with it a lot and probably break it while taking the mechanism apart, I know I would.
The metal disc on the strap is a remote control for your phone/iThingy that makes this bag 'smart'. With the included app it will do things like answer your phone, be a bluetooth music player, and track your location all via the magic of them computer thingies and radio stuff. Actually it isn't all that complex but the implementation looks solid. HiSmart is a ways off production but again, benefit of the doubt because the company has earned it. The Poki is good, I have one but haven't had too much time to use it, and the Moovid and HiSmart have a lot of promise. Hopefully they will be out soon and also live up to the premium label.S|A
The following two tabs change content below.
Charlie Demerjian is the founder of Stone Arch Networking Services and SemiAccurate.com. SemiAccurate.com is a technology news site; addressing hardware design, software selection, customization, securing and maintenance, with over one million views per month. He is a technologist and analyst specializing in semiconductors, system and network architecture. As head writer of SemiAccurate.com, he regularly advises writers, analysts, and industry executives on technical matters and long lead industry trends. Charlie is also available through
Guidepoint
and
Mosaic.
FullyAccurate
Latest posts by Charlie Demerjian (see all)