Cavium was showing off their 64-bit Thunder chip at Techcon but unfortunately it was only a simulator, not silicon. Luckily for Cavium while the chip may be a bit late, 64-bit Ubuntu Server will be there for it.
Thunder silicon was supposed to sample before Techcon, no question there but the simulator to test your code against before silicon arrives is both stable and here now. A simulator, even a very stable one, is pretty pointless if you don't have software to run on it and the software is pretty hard to compile and test without a solid simulator. There were several engineers from Canonical at the Cavium suite breaking that logjam and showing off their results.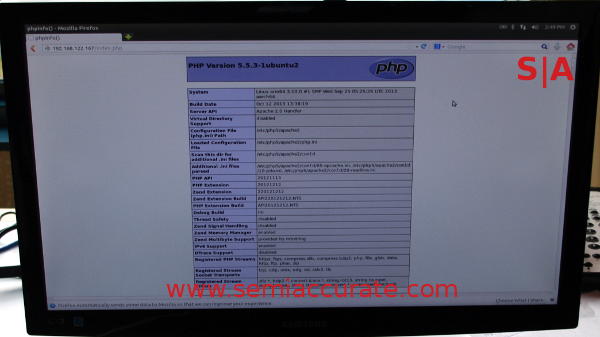 I guess it works, see?
The short story is that before you can get Thunder silicon Ubuntu Server 13.10 is there for you. Unfortunately for early adopters not all of the 13.10 repository is there and 64-bit ARM clean. Fortunately for early adopters as of yesterday there are about 29K packages that are compiled for Thunder and are 64-bit clean. This is more than enough to do most of what is typically needed.
Unfortunately for the early adopters Canonical geeks recommended that you only start with 13.10 and move off of it pretty soon. Fortunately for early adopters they point to the still pretty early 14.04LTS. Why? Because 14.04 has, again as of yesterday, over 36K packages all compiled and ready to apt-get at your leisure. Other than a few oddball packages that break during compile that is almost the entire mainstream package library, the few remaining bad seeds should be dealt with long before 14.04 ships. Until then you might have to run your Haskell compiler non-natively, sorry.
If you want to play around with a Thunder chip, well you can't yet but the simulator is quite easy to get. There are two ways to get it, download it or use an Amazon EC2 instance. If you want to grab a copy you just need to go to this page and fill out a few forms, read the 372 page fine-print legal agreement, and off you go. Just kidding about the 372-page agreement, the process isn't that hard, much easier than the EC2 option. For that you have to put in your EC2 credentials to prove you are an EC2 user at which point Cavium will automatically set you up with an EC2 based Thunder simulator. Actually that one isn't that hard either.
In the end you can't get Thunder silicon yet but the simulator is available with a few clicks and costs all of nothing more than possibly a few cents worth of EC2 time. Even if you only want to kick the tires of an ARM V8 device to satisfy your curiosity, all the pieces are now there. Grab a copy, give it a whirl, and let us know what you think.S|A
Have you signed up for our newsletter yet?
Did you know that you can access all our past subscription-only articles with a simple Student Membership for 100 USD per year? If you want in-depth analysis and exclusive exclusives, we don't make the news, we just report it so there is no guarantee when exclusives are added to the Professional level but that's where you'll find the deep dive analysis.
The following two tabs change content below.
Charlie Demerjian is the founder of Stone Arch Networking Services and SemiAccurate.com. SemiAccurate.com is a technology news site; addressing hardware design, software selection, customization, securing and maintenance, with over one million views per month. He is a technologist and analyst specializing in semiconductors, system and network architecture. As head writer of SemiAccurate.com, he regularly advises writers, analysts, and industry executives on technical matters and long lead industry trends. Charlie is also available through
Guidepoint
and
Mosaic.
FullyAccurate
Latest posts by Charlie Demerjian (see all)