The time has finally arrived for AMD and the rest of the gaming press to reveal all of the juicy details surrounding the Radeon R7 and R9 series GPUs. Save for the R9 290 and R9 290X today is the day when all will be revealed. AMD was kind enough to send us an R9 280X to review, but the svelte new board didn't arrive until yesterday. Of course SemiAccurate is hard a work running this card though our benchmarking suite, but we're not done yet.
In the mean time we've taken the liberty of posing the 280X next to the outgoing HD 7970Ghz Edition for your viewing pleasure.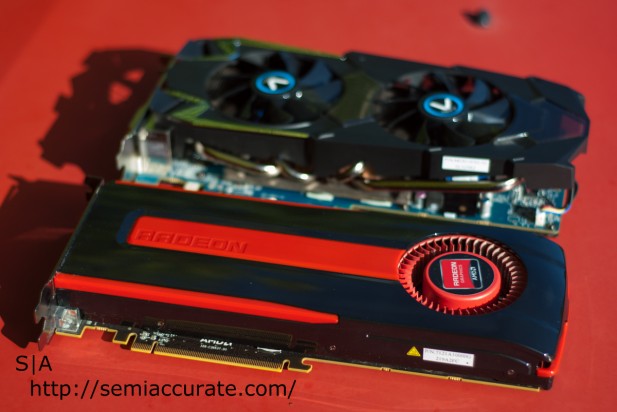 The R9 280X is launching with non-reference designs. Since Tahiti is the chip at its core this has allowed AIBs to reuse their high-end Ghz Edition designs on the 280X.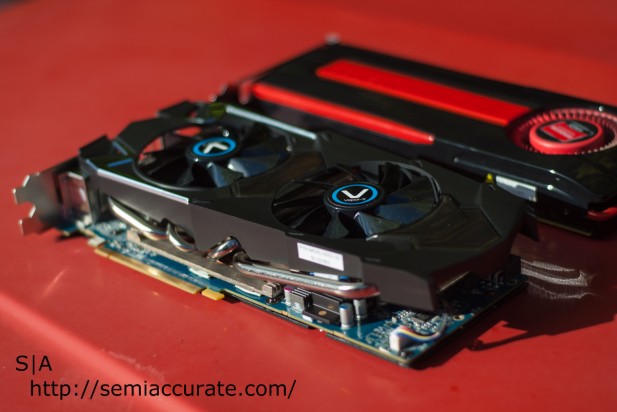 The particular board we have here is a design from our friends at Sapphire that falls under their premium Vapor-X brand.
Unlike the reference 280X that AMD showed in its slideshow Sapphire has included dual eight pin PCI-E power connectors to aid adventurous gamers in their overclocking efforts.
Perhaps my favorite feature of this particular R9 280X board is the inclusion of a sturdy metal back plate. The PCB that the R9 280X uses is about a foot long and the heatsink is no light weight, thus the inclusion of a back plate was probably a necessity on this card considering how much it has to support. None the less I've always felt that even AMD's HD 7970 GHz Edition always needed a solid back plate due to its length; and while our sample hasn't bent much, if at all, over the past two years it's gratifying to see that at least Sapphire understands the issue.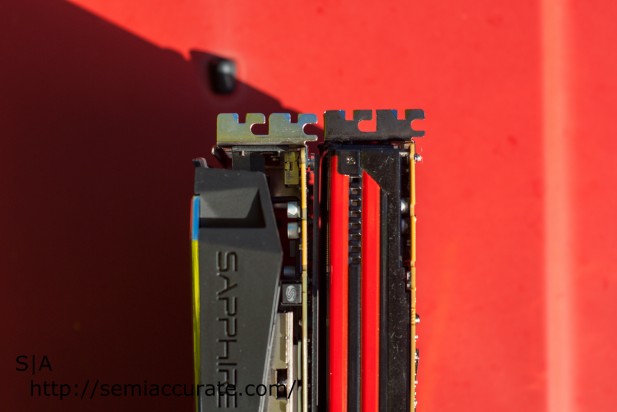 This Vapor-X board from Sapphire is at least 2.5 slots wide as is often the case with these high-end non-reference GPUs. But considering how massive the heat-sink is on this card I think its additional width is a compromise that many people will be okay with.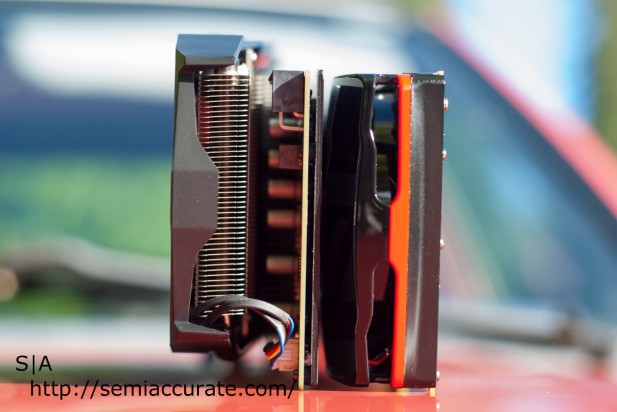 There's been a lot of debate over whether open air GPUs that vent into the computer's case like the Vapor-X are truly a superior solution to fully enclosed designs that vent out of the case like AMD reference 7970. When it comes to noise output, open air designs have proven themselves to be consistently superior. But at the end of the day, choosing the right design for your use case boils down to whether or not you have a well ventilated case like most high-end PCs. If so, then going with an open-air design is probably the best choice for you.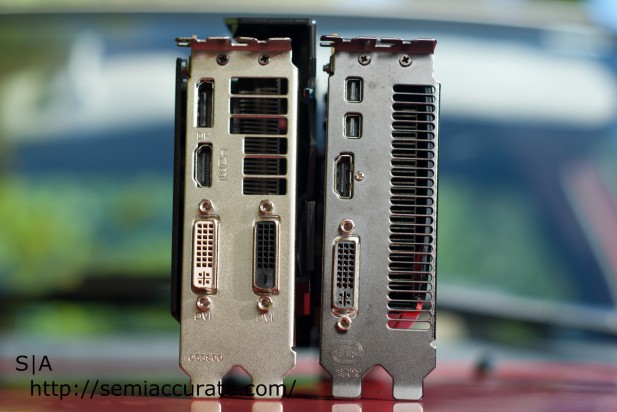 AMD has really done its customers right this round by moving away from the mini DisplayPort standard and focusing on more traditional output standards like DVI, HDMI, and full-size DisplayPort. While this sentiment is even more true on the high-end 290X where putting together an Eyefinity setup is the easiest and most flexible it's ever been since the technology was introduced; the choice of outputs on this card is logical.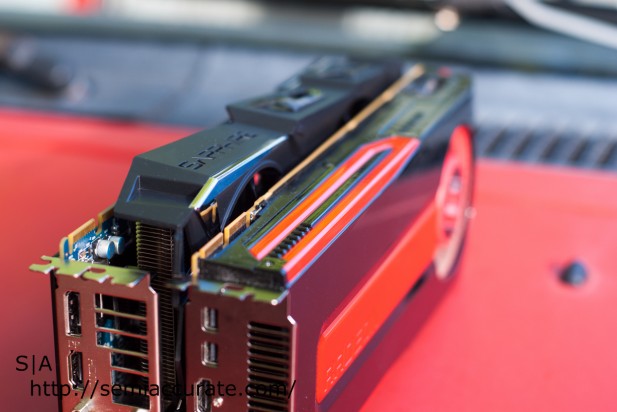 It's amazing much looser AMD's gotten over the last two years. Going from carefully designed blower-style GPUs to letting the AIB partners run wild on launch day, all with the same Tahiti chip under the plastic shroud. Here's to the third, and hopefully last, Tahiti launch day.S|A
Have you signed up for our newsletter yet?
Did you know that you can access all our past subscription-only articles with a simple Student Membership for 100 USD per year? If you want in-depth analysis and exclusive exclusives, we don't make the news, we just report it so there is no guarantee when exclusives are added to the Professional level but that's where you'll find the deep dive analysis.
The following two tabs change content below.
Thomas Ryan is a freelance technology writer and photographer from Seattle, living in Austin. You can also find his work on SemiAccurate and PCWorld. He has a BA in Geography from the University of Washington with a minor in Urban Design and Planning and specializes in geospatial data science. If you have a hardware performance question or an interesting data set Thomas has you covered.
Latest posts by Thomas Ryan (see all)