Last Wednesday AMD announced a major update to its Radeon product line with a preview of the forthcoming R9 and R7 series GPUs. This product family codenamed Volcanic Islands is the first real replacement for the Southern Islands family of GPUs that launched in late 2011. The headlining feature of this new family of GPUs is TrueAudio. We'll have a deep dive article on TrueAudio in the future, but for now its worth noting that AMD has chosen to integrate a powerful DSP for the purpose of providing gamers with higher quality and more realistic audio should developers chose to take advantage of it.
At this point there is a far more interesting change that the early press images of the R9 and R7 GPUs have revealed. AMD has done away with Crossfire connectors and bridges on its new GPUs. There still appear to be some pins on the cards where the connectors would have been placed but it seems that the traffic that used to flow over that bridge now passes over the PCI-E bus instead. Whether this is a change enabled by the widespread adoption on PCI-E 3.0 standard or mere an evolution in AMD's Crossfire technology remains to be seen, but as of now the physical Crossfire bridge is dead.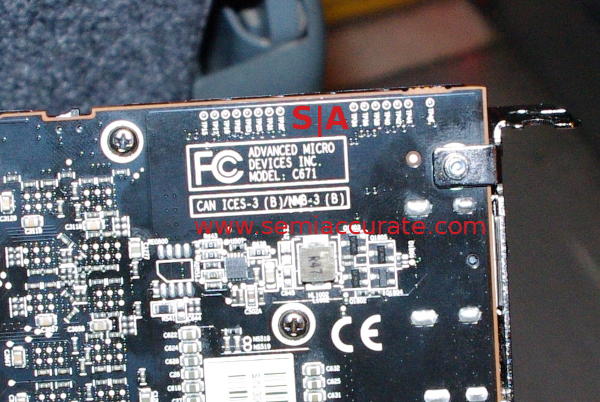 Additionally AMD has only included its TrueAudio technology on three of its new GPUs.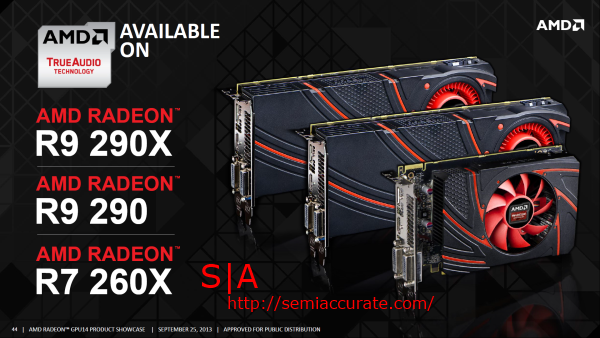 With that in mind lets see what we can learn from the few hard specifications that AMD doled out at its event in Hawaii.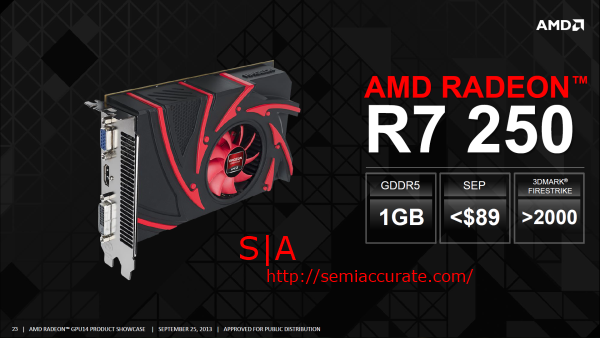 Starting from the bottom of the new stack we have the R7 250. This card looks to be a direct replacement for the HD 7750 at the $89 price point. It hard to say exactly what chip is in the R7 250, but judging by its price point and performance level is this probably a new version of the Oland chip that debuted last year in AMD's OEM and mobile HD 8000 line-ups. Oland was notably more efficient than the other GCN GPUs in terms of performance per watt by some reports and as AMD's APUs have grown in performance there has been less and less reason for the company to focus its efforts on the sub-$100 market. Additionally for the last two generations AMD has taken its bottom-end mid-range cards and send them down to do battle in the low-end with the next generation.  Thus it seems like there's a reasonable chance that Oland is what drives this R7 card.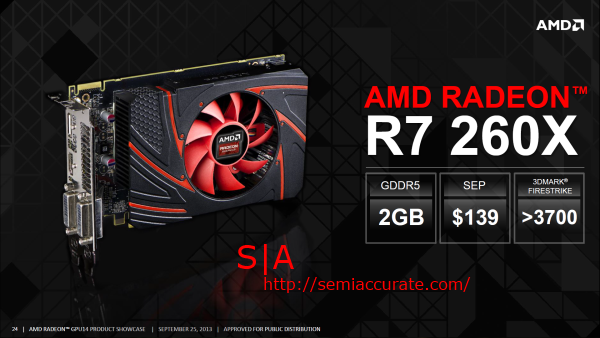 The R7 260X is a very special card because it is the least expensive Radeon model to include AMD's TrueAudio technology. This points the R7 260X using a completely new chip, but the inclusion of a physical Crossfire connector and the striking physical and performance similarities to AMD's HD 7790 GPU lead us to believe that the R7 260X is a Bonaire-based product.
AMD's Bonaire, like Oland, was released as an update to the HD 7000 series as part of the Sea Island family of products. Bonaire is more efficient than old GCN-based GPUs and fit in well at the ~$150 price point. There are really two options here, either the 260X is a completely new chip and AMD left the new Crossfire silicon of the chip to save die space or that Bonaire has always had hardware support for TrueAudio, but only now has AMD chosen to implement that technology in a product.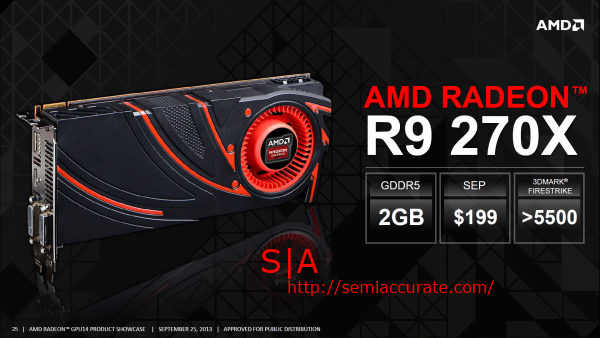 Next up we have the R9 270X which is the entry-level R9 series offering. Judging by the inclusion of a legacy Crossfire connector, the lack of TrueAudio support, the two six-pin PCI-E power connectors, its front I/O layout, and the approximate length of the card; the 270X appears to be a new version of AMD's venerable Pitcarin chip known to most as the HD 7870 GHz Edition. The 270X looks set to out perform the old Pitcarin which coincidentally sells for about $200 at the time of publication.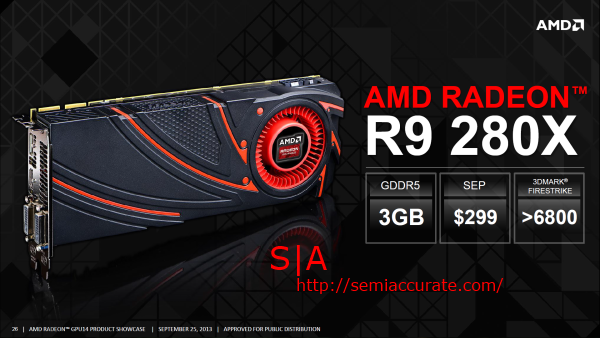 Finally we have the crown jewel of HD 7000 series making a reappearance in the R9 series as the 280X. It seems that we just can't get enough of Tahiti so AMD's created a new version which has the same PCB length, I/O layout, power connectors, pair of legacy Crossfire connectors, memory foot-print, and performance profile. A perfect reuse of the GPU that has largely defined AMD's Radeon brand for the last two years.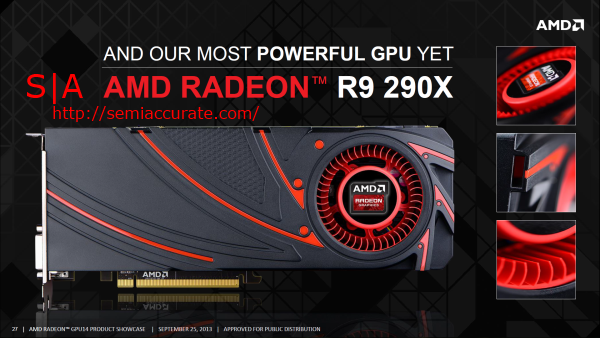 Of course the R9 290 and the R9 290X are not re-brands. They are an all-new chip rumored to be codenamed Hawaii. AMD says that it will have greater than 5 TFLOPs of single precision performance, more than 6 Billion transistors, over 300 GB/s of memory bandwidth, and more than 4 billion triangles per second of geometry performance. It's likely that Hawaii's die-size will split the gap between Tahiti's 352mm2 and GK110's 551mm2. You should expect something in the greater than 400mm2 range.
So there you have it; AMD's new Volcanic Islands lineup goes Oland, Bonaire, Pitcarin, Tahiti, and Hawaii. Without a new node to transition to both AMD and Nvidia have ended up following very similar paths this generation by introducing a new super high-end GPU and then more-or-less re-branding the rest of their line-ups. We should have more on Nvidia's plans for this year in the near future, but for now it's nice to see that AMD's keeping it all in the family.S|A
The following two tabs change content below.
Thomas Ryan is a freelance technology writer and photographer from Seattle, living in Austin. You can also find his work on SemiAccurate and PCWorld. He has a BA in Geography from the University of Washington with a minor in Urban Design and Planning and specializes in geospatial data science. If you have a hardware performance question or an interesting data set Thomas has you covered.
Latest posts by Thomas Ryan (see all)