One look around the Gelid booth at Computex and you understand why Arctic is not in the news any more and Gelid is. The company was showing off a ton of fans and coolers that were actually interesting and innovative.
The first thing from Gelid is not exactly a massive technical leap but I for one have not seen it before, it is a router cooler. If you know the laptop cooling stands, basically a big pad with a fan in it to blow air over the hot bottom of your leg scorcher, this is the same time for home routers. Gelid says it is quiet and has high airflow, something we don't doubt given the company's history, and is all USB powered.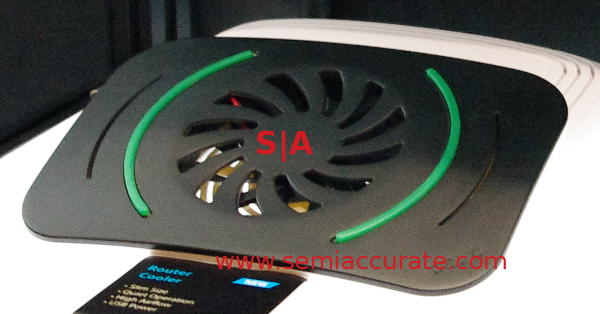 Not rocket science, just really useful
If you have ever picked up your home router, you know how hot these badly designed little beasts can get, laptops can be comparatively frigid. If you torrent a lot of daily builds and new distros like SemiAccurate does, they can overheat and crash in short order. A router cooler like this is just a good idea.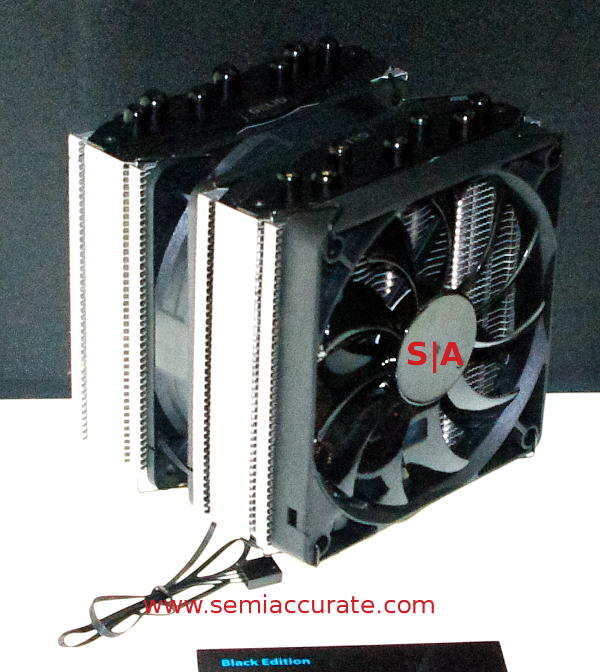 Big black cooler from Hong Kong
Gelid would not be Gelid without showing a big cooler, and this year it is called the Black Edition. This two fanned, seven heat-piped monster is meant to dissipate 200+W without breaking a sweat, but the interesting bits are once again in the details. The middle fan is Gelid's 120mm PWM fan but the outer version is their Slim PWM version, so asymmetric airflow on this one. Should this not be enough you can add an optional third fan to the outside for more blowing or sucking. Lets just go with airflow shall we?
On the base things are asymmetric once again, the seven heatpipes are divided in to two types. Black Edition has three 8mm pipes and four 6mm pipes arranged in the base, something we aren't sure of the science behind this but the Gelid guys do get that side of things. Best of all they include their GC-Extreme thermal compound to slather on the bottom, a good choice for this market. In case you haven't been paying too much attention to thermal compounds of late, GC-Extreme is the only one that we know of that will work at liquid nitrogen temperatures.
Next up is a very low profile fan meant at the low profile mini-PC markets called the Slim Hero. While this heatsink may look like a squashed vertical device and is only 59mm high, it gives up very little compared to its differently oriented kin. It has four full heatpipes and full PWM fan capabilities. If you are building a HTPC box meant for more than casual gaming, you could do a lot worse than the Slim Hero.
On the GPU cooler side there are two new Icy Vision heatsink/fan combos, the Rev2 for AMD/ATI and Nvidia and the A for AMD only. Both should be snap on replacements for the reference designs of the latest high end GPUs should you want to push the limits on clocks there. More GPU cooling is never a bad thing, especially given how easy overclocking is of late.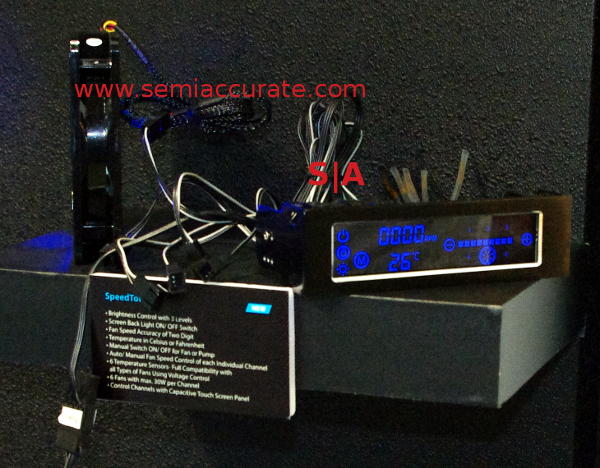 Best of all the lights turn off!
Last up we have the Speedtouch6 fan controller, so named for the six fan channels it supports. Each one can independently control a fan of up to 30W from a separate temperature sensor and voltage plane. Everything is based on touch a screen controller with full brightness controls and the ability to turn all those annoying LED off for UHR (User Headache Reduction). The Speedtouch6 is one of the best fan controllers we have seen lately, it leaves nothing out.S|A
Have you signed up for our newsletter yet?
Did you know that you can access all our past subscription-only articles with a simple Student Membership for 100 USD per year?   If you want in-depth analysis and exclusive exclusives, we don't make the news, we just report it so there is no guarantee when exclusives are added to the Professional level but that's where you'll find the deep dive analysis.

The following two tabs change content below.
Charlie Demerjian is the founder of Stone Arch Networking Services and SemiAccurate.com. SemiAccurate.com is a technology news site; addressing hardware design, software selection, customization, securing and maintenance, with over one million views per month. He is a technologist and analyst specializing in semiconductors, system and network architecture. As head writer of SemiAccurate.com, he regularly advises writers, analysts, and industry executives on technical matters and long lead industry trends. Charlie is also available through
Guidepoint
and
Mosaic.
FullyAccurate
Latest posts by Charlie Demerjian (see all)