SK Hynix was showing off memory goodies from DDR4 to 1xnm flash wafers. If others are in the same ballpark too, the next generation of memory is in good hands.
The first thing that caught our eye at Hynix were the SSDs, nothing amazing to look at, but they use a Sandforce controller. You might recall that the company making Linkamedia controllers that Corsair seems to be doing well with was purchased by SK Hynix. When asked about this disparity, Hynix assured SemiAccurate that a round of Linkamedia drives were coming from them, it just takes time to engineer. That and it will very likely be worth the wait. Nothing like a good industry performance race to make end users smile.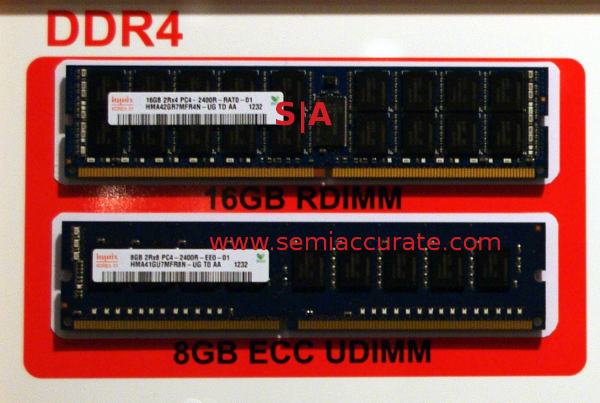 DDR4 server memory looking more final
How about some DDR4 server memory? 16GB registered, 8GB ECC, both at 2400MHz clocks, or so it would appear by the label. Hynix was also showing off an 8GB SODIMM at the same speed, timing is in the 97-93-93 range. Just kidding, the timings weren't listed, but given the underlying tech, it won't improve on DDR3's numbers.
Should those not be enough for you, Hynix also had 64GB LRDIMMs on display, no word on the buffer maker, and 32GB VLP DIMMs for those with 1U servers. At least DIMM capacity is growing at ever increasing rates even with the DDR4 changeover looming.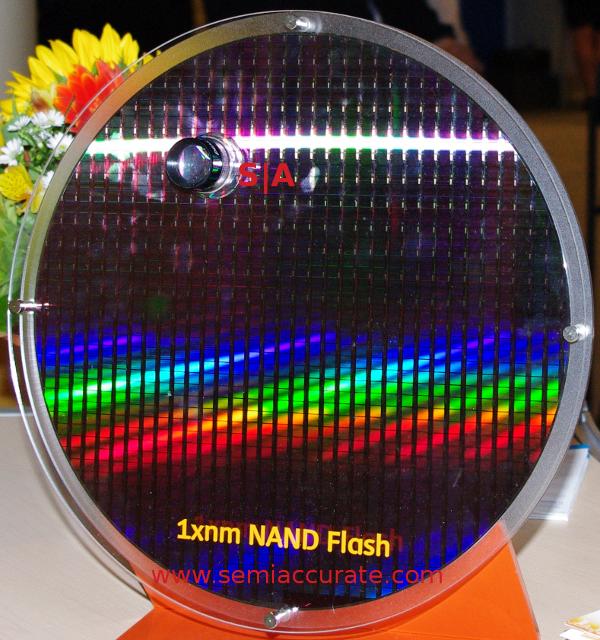 The next gen, made with rainbow technology
The last bit was a 1xnm NAND flash wafer shown off at the booth. Hynix would not say what the x stood for, but since it is a full step below the 20/22nm stuff some companies are showing off, it is unlikely to be 19. Those looking for massive density flash chips and stacks won't have long to wait now.S|A
The following two tabs change content below.
Charlie Demerjian is the founder of Stone Arch Networking Services and SemiAccurate.com. SemiAccurate.com is a technology news site; addressing hardware design, software selection, customization, securing and maintenance, with over one million views per month. He is a technologist and analyst specializing in semiconductors, system and network architecture. As head writer of SemiAccurate.com, he regularly advises writers, analysts, and industry executives on technical matters and long lead industry trends. Charlie is also available through
Guidepoint
and
Mosaic.
FullyAccurate
Latest posts by Charlie Demerjian (see all)