Bitfenix always has some good stuff to show off, and this Computex they had a case of unusual, in a good way, proportions. Their latest is called Prodigy, but they also had a nice silent chassis too.
The first thing you notice at the Bitfenix stand is the Prodigy case, it is a mini-ITX mobo mini-tower that is wider than it should be. You tend to notice it because it comes in a rainbow of colors, bright colors, His Jobsness would never have approved, but it works for me.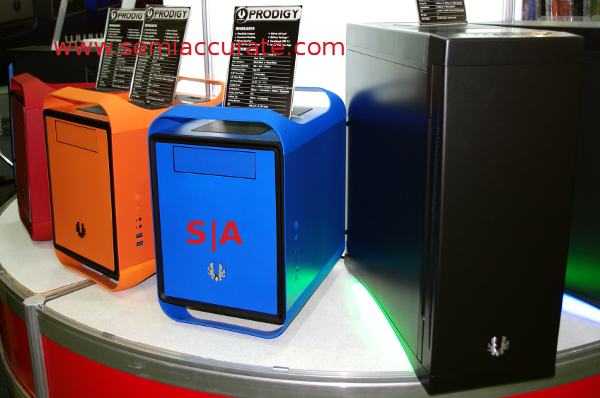 Prodigys are bright, in this case colored brightly
Recon has carry handles on all four corners, big beefy loops that double as feet. Interestingly, the top ones are soft touch, almost floppy, but the bottom two are solid. Luckily, the plastic chosen for the top has long fibers in it, so it won't tear or stretch, it just ends up being more comfortable to carry.
Bitfenix is a rather standout company because of the people. They are not just industry veterans, they are enthusiasts too. Many of them come from Abit, and if you remember what that company did, you can see some of that magic in the Recon unit in the Prodigy below.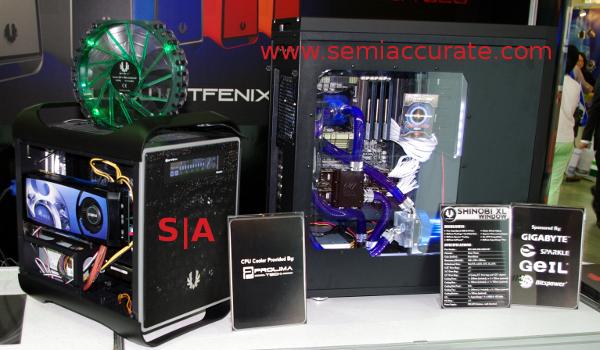 Recon, fans, and more
Recon is a net connected touchscreen front panel/fan controller on steroids that has a built in web server. Since it is HTML, you don't need a special app, just any browser on your phone, office PC, or whatever. You can control just about everything remotely, and not have to worry about installing anything. On top of that case is the Spectre Pro LED fan, just one of the many nifty accessories that Bitfenix makes. Their accessory line is worth a long hard look, lots of good stuff there, really, they get it.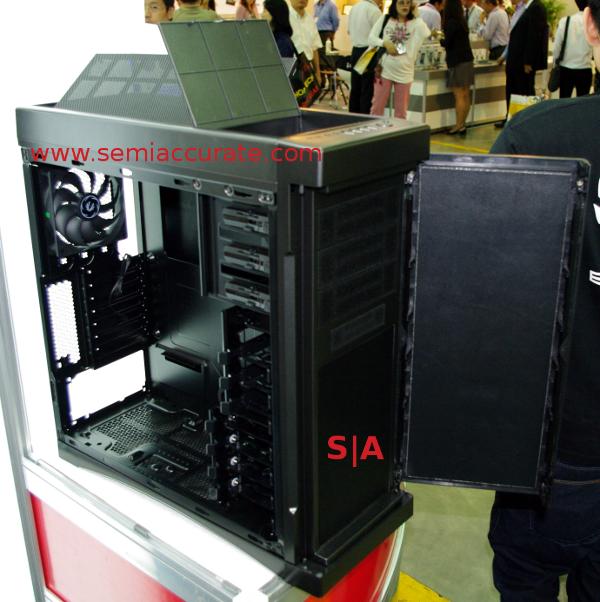 Ghost is big, quiet, and not white
The other interesting case that Bitfenix was showing off is called Ghost, a traditional full tower that has been silenced. While it technically is a workstation chassis, eATX and all that, it also has LED rails on the bottom for that glowy floating effect that makes dumb cars look dumber. Luckily, LEDs are optional, because the rest of the case is really nice. The front door is padded for silence while allowing airflow, there is room for a top radiator, and it uses Bitfenix Spectre fans which we like a lot.
Moving on to the 'nice touches' part, Ghost has a SSD rack, a top storage bay/dock, and 10 drive bays in total. Many of the bays have anti-vibration mounts, and everything is designed to reduce or not transmit noise. On the bottom, there is a magnetic, washable, and reusable dust filter. While not unique, it is really nice to have available.S|A
The following two tabs change content below.
Charlie Demerjian is the founder of Stone Arch Networking Services and SemiAccurate.com. SemiAccurate.com is a technology news site; addressing hardware design, software selection, customization, securing and maintenance, with over one million views per month. He is a technologist and analyst specializing in semiconductors, system and network architecture. As head writer of SemiAccurate.com, he regularly advises writers, analysts, and industry executives on technical matters and long lead industry trends. Charlie is also available through
Guidepoint
and
Mosaic.
FullyAccurate
Latest posts by Charlie Demerjian (see all)