OCZ and Marvell have been working together on a new platform, and it was shown off at Computex in three different forms. You will soon be able to get Kilimanjaro SSDs in PCIe, Mini PCIe, and 2.5″ PCIe.
The idea behind Kilimanjaro is simple, free SSDs from the 6Gbps cap imposed by the SATA port. If you go with PCIe2 connectivity, you potentially have 16 lanes of 5Gbps or 80Gbps to work with, more than 13x what SATA can do. OCZ and Marvell didn't stop there, they went straight to PCIe3, opening up 16x 8Gbps or 128Gbps of total bandwidth for I/O. This is a proverbial 'lot' of bandwidth.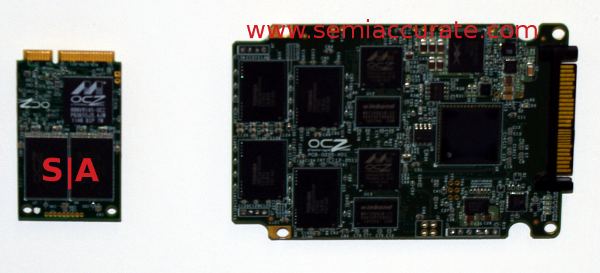 Mini and 2.5″ PCIe SSD form factors
How much you can reasonably expect to see in the real world is not known, for the moment, we aren't all that close to pushing the PCIe3 bus yet. The two above, a mini-PCIe3 and a 2.5″ PCIe3 SSD won't come close to theoretical peak throughput numbers, but they are still faster than what you can buy now. Luckily, they are designed to fit in the same mechanical form factor as current SATA drives while delivering PCIe3 bandwidth. Even 1x PCIe3 is 33% faster than SATA 6Gbps.
OCZ is claiming that the mini will do 500MBps and 50K IOPS, about what a high end SATA SSD can do, the 2.5″ ups that to 1000Mbps and 100K IOPS. The full height PCIe3 card based on Kilimanjaro supports 3GBps data transfers and 1.8 million IOPS. That last set of numbers is pretty staggering.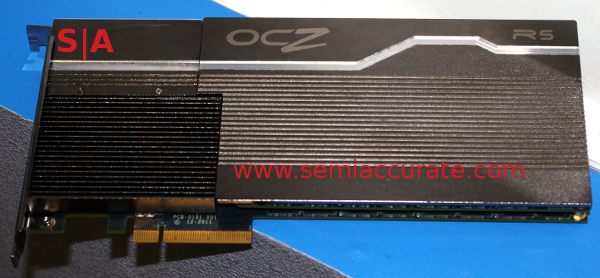 Z-Drive R5 is the first implementation
The OCZ Z-Drive R5 boards have been shown off before, but the one you see above is the first public showing of the final design. It is a full height PCIe3 card based on Kilimanjaro tech, and comes in capacities up to 12TB from a single controller. That of course won't be cheap, nor will it be a single slot device, but that capacity is nearly as impressive as the transfer speeds.
Since the R5 is a PCIe3 8x device, the 2.5″ version is likely 2x, and the mini 1x based on transfer capabilities. That means the 8x is not maxing out the bus, so there is room to grow here. PCIe3 8x is theoretically capable of 8GBps, so Kilimanjaro is not another situation like when Sandforce killed their category by maxing the bus on with their first product. Once the 8GBps threshold is reached, there are still another 8x lanes to expand in to.
In the end, hats off to Marvell and OCZ for doing the right thing. SATA is currently a dead end, so they simply went around it. The benefits are immediate, obvious, and best of all, quite useful to the end user. As soon as the drivers and firmware for PCIe3 booting hit the mainstream, life with this type of storage will be better. I definitely want one. No, I want three.S|A
The following two tabs change content below.
Charlie Demerjian is the founder of Stone Arch Networking Services and SemiAccurate.com. SemiAccurate.com is a technology news site; addressing hardware design, software selection, customization, securing and maintenance, with over one million views per month. He is a technologist and analyst specializing in semiconductors, system and network architecture. As head writer of SemiAccurate.com, he regularly advises writers, analysts, and industry executives on technical matters and long lead industry trends. Charlie is also available through
Guidepoint
and
Mosaic.
FullyAccurate
Latest posts by Charlie Demerjian (see all)