Much has been said about Intel's new Ultrabook form factor. But new details from AMD's Financial Analyst Day are radically changing the prospective competitive landscape that 2012 has to offer. During Intel's Q3 conference call certain Intel executives were confident that AMD would always be offering a lower cost alternative to Intel products. But it seems that thing are not turning out the way that the cunning marketeers behind Intel's "visibly smart" 2nd generation Core processors had hoped. The upcoming Ivy bridge product from Intel is going to be heavily targeting the Ultrabook form factor that Intel has almost single handedly created over the past year, not to be confused with the Macbook Air (TM). But it seems that AMD's counter offering, in the form of its 17 Watt Trinity APUs, may end up being more competitive in this market space than Intel had anticipated.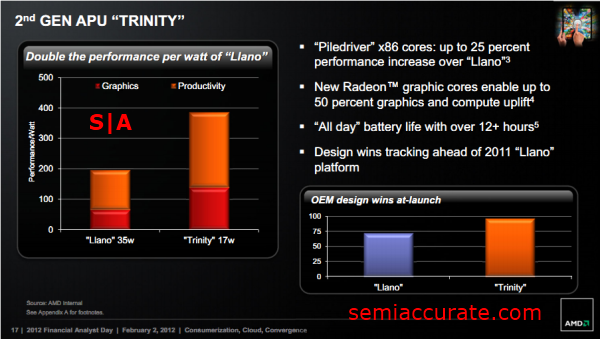 AMD is projecting that its Trinity based products, which they've had in hand since last June's AFDS, will offer longer battery life in the 18mm "ultrabook" or ultrathin form factor than Intel's Ivy Bridge. (Editor's note: Ultrabook is a Trademarked name belonging to Intel, the generic category is Ultrathin which would cover most laptops of a sub 18mm thickness.)  Trinity will also be offering 50% more GPU horse power, have quad core models, and AMD's HSA architectural enhancements. AMD looks extremely well positioned to not only compete in Ultrabook space, but take the initiative from Intel by offering a product that can outperform and last longer than Intel's competitive products, all at equal or lower prices.
The implications of this are excellent for the consumer. AMD's new management team has a tailor made opportunity to gain market share, get that design win from Apple that they've been dreaming of, and please the rather activist board that canned the last executive team in order to pursue faster growth. It's all thanks to the work that Dirk Meyer and his executive team over saw years ago during AMD's 2010 transitional period. AMD is staring a golden goose; the only questions now are what the Trinity ramp will look like, and how far Intel's willing to go to stop AMD from taking this goose from its nest.S|A
The following two tabs change content below.
Thomas Ryan is a freelance technology writer and photographer from Seattle, living in Austin. You can also find his work on SemiAccurate and PCWorld. He has a BA in Geography from the University of Washington with a minor in Urban Design and Planning and specializes in geospatial data science. If you have a hardware performance question or an interesting data set Thomas has you covered.
Latest posts by Thomas Ryan (see all)