Maker of multi-colored motherboards, Gigabyte, is showing off its new designs based on Intel's 7x series chipsets. With color patterns ranging from the standard fare of alternating white and light blue plastic on a straight blue printed circuit board, to a new style based around light blue heat-sinks with jet black plastic slots on an all black PCB, Gigabyte is really showing off how uninspired modern motherboard color palettes are. Luckily Gigabytes new designs do have one bright spot in the aesthetics department and that is the G1.Killer series. Admittedly, these motherboards about as interesting as a high-visibility jacket, but still, it's better than then that new color scheme they've come out with on the more mainstream UD5 and UD3 motherboards, but more on that later.
Gigabyte is introducing two new features with its lineup of 7 series motherboards, the first of which is 3D power. Three Dee power is basically an umbrella term for Gigabytes Digital Power system. It allows full control over voltages and power phases with fully digital readouts and tuning. Plus one to Gigabyte for giving the user more control, but minus a half point for using the "3D" Cliché. The second major feature that Gigabyte is promising on these new motherboards is 3D Dual BIOS. Now this is a misleading term as it gives the impression that Gigabyte is still using a traditional BIOS instead the more modern UEFI interface. Luckily, Gigabyte is going fully UEFI on the 7 series and both BIOS chips on these new motherboards are of that type. Essentially, 3D Dual BIOS is an extension of Gigabyte's old Dual BIOS feature, but re-branded to tip off users to the new "3D" interface present in the UEFI system.
G1. Killer
Now a lot of people seem to be interested in Gigabyte's G1.Killer series of motherboards. Whether that interest is due to a disdain for said motherboards peculiar heat-sinks or because people like the neon green and black color scheme and high end gaming oriented features is a bit of an open question. But in either case this is where I'm going to start this overview.
G1.Sniper 3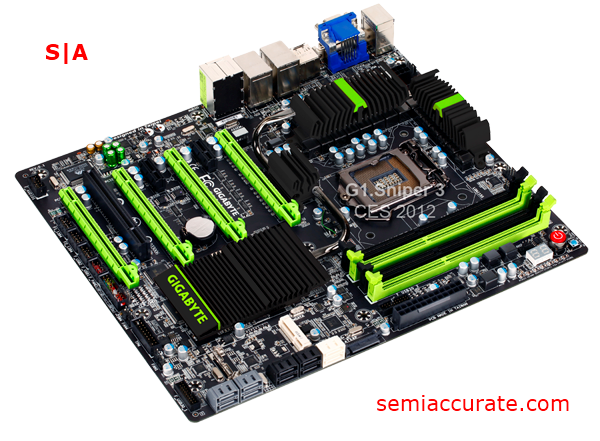 Now as motherboards go this is not a bad looking design, it seems pretty tactful, if a bit reserved, when compared to previous entries in the G1.Killer lineup. The biggest change here is that Gigabyte has chosen to forgo the gun-shaped heat-sinks and instead use heat-sink designs that are more typical of its UD7 and UD5 branded products. Of course Gigabyte is continuing to try and differentiate its offerings by including an audio chip from Creative, and a dual Gigabit (not Gigabyte /bad pun) LAN configuration based on an upcoming Killer NIC in combination with an NIC from Intel. With four PCI-E 3.0 x16 slots, a plethora of USB and SATA ports, and the error code display that tweakers and builders alike love, Gigabyte seems to have a really solid X77 based motherboard in the G1.Sniper 3.
G1.Sniper M3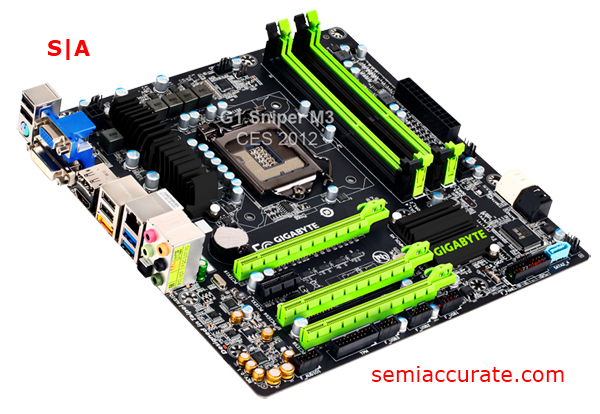 With the M3 Gigabyte is taking its G1.Killer brand into a new form factor, MicroATX. Sporting three PCI-E 3.0 slots, some decent sized heat-sinks, and a well rounded selection of rear panel ports it seems that Gigabyte has just about maxed out the capacity of the form factor. Gigabyte is referring to the M3 as, "a gaming motherboard with signature G1.Killer DNA in a compact Micro-ATX form factor." And for all intents and purposes that's what it is.
Small Business Motherboard(s)
With this offering Gigabyte seems to be trying to woo business users with increased PC monitoring and management abilities. Additionally, Gigabyte is touting three rather ambiguous abilities/features in the form of data backup, energy savings, and connectivity. When it comes down to it though, Gigabyte is really trying to get into small business systems by leveraging its Ultra Durable design while maintaining price competitiveness in this generally low cost market.
GA-B75M-D3H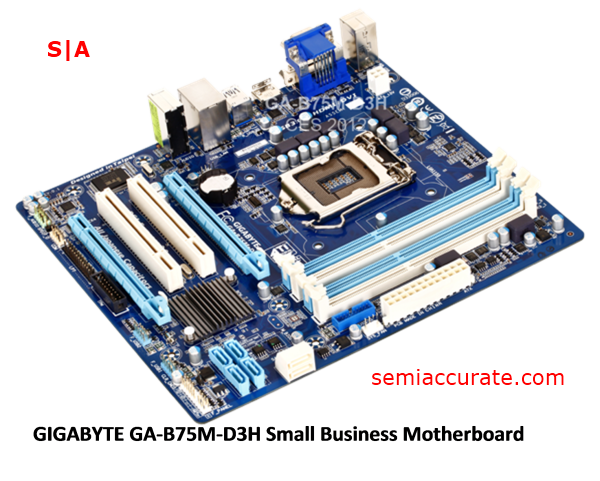 The D3 is a little unusual for a Business oriented motherboard due to its dual PCI-E x16 slot configuration. Admittedly, Gigabyte's decision to place one of the x16 slots in the bottom most position on the motherboard is one of questionable real world practicality, especially in MicroATX cases. But a motherboard with dual x16 slots and multi-GPU support is still a relatively unusual proposition in this market.
GA-Z77X-UD5H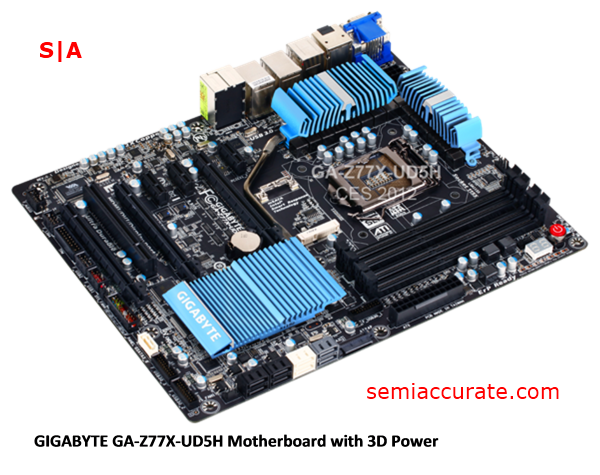 The UD5 is where Gigabytes color choices take a turn for the less inspiring. This motherboard, and its UD3 branded little brother, would have been a whole lot more attractive if Gigabyte had opted to make every other plastic slot the same light blue color as the heat-sinks. Or they could have reversed the current pattern and made everything light blue with black heat-sinks. There are numerous options that would have been preferable to this color scheme and Gigabyte still has sometime before these go to retail, so it will be interesting to see what changes between now and launch.
Other than my appearance nit picking Gigabyte has another pretty solid motherboard in the UD5. It has a spacious layout that would probably do well for anyone with a desire to run a pair of dual slot graphics cards in it. The castration of the UD5 in comparison to the G1.Sniper 3 is pretty minimal. The UD5 manages to keep the red power switch and error code reader, as well as most of the SATA ports, found on Gigabytes highest end X77 motherboard. Props to Gigabyte for not putting to much on the chopping block to make the UD5.
GA-Z77X-UD3H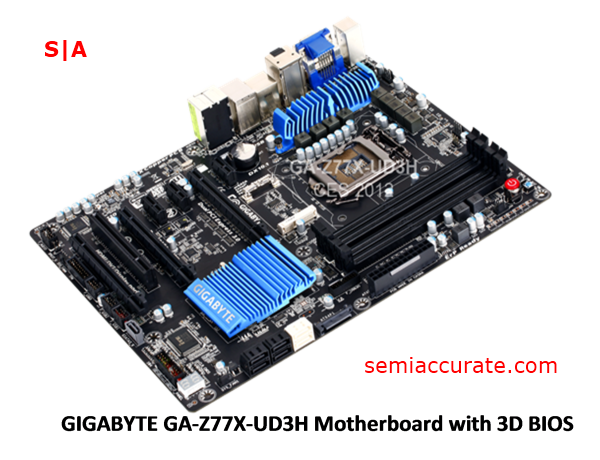 Where things start getting a bit tighter is the UD3, where we are down to only the SATA ports provided by the Z77 chip-set. The heat-sinks are also smaller, particularly around the power circuitry. Other than that you can see that most features are continuing to water fall down Gigabytes product lineup to the point where the UD3 really retains majority of the functionality found in the G1.Sniper 3 and UD5. Including the less than wonderful color choices, although it's not so bad on this particular specimen.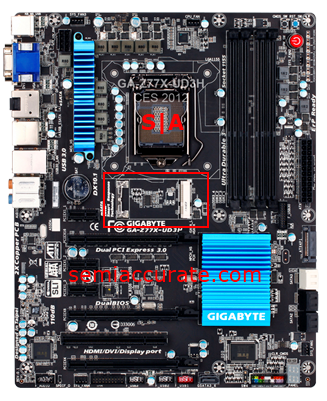 The thing I want to highlight here, other than Gigabyte's thoughtful layout, is the mSATA slot in the center of the board. You may have noticed it on the Sniper 3 and UD5; its purpose is to allow users to install mSATA drives for SSD caching, which will again be a big feature in Intel's high-end chip-sets.
So there you have it, Gigabyte's 7 series Intel motherboard line-up. For more info on these boards from the show floor you can head over to Legit Reviews. If you're in the mood to watch a video of Gigabyte showing these motherboards off, then Tweaktown has you covered. And if you fancy the Creative audio and Killer NIC chips on the G1.Sniper 3 then checkout VR-Zone's coverage. Again, what we have here is a solid motherboard line-up from a well known manufacturer; nit picking aside, things look to be right on track for Ivy Bridge.S|A
The following two tabs change content below.
Thomas Ryan is a freelance technology writer and photographer from Seattle, living in Austin. You can also find his work on SemiAccurate and PCWorld. He has a BA in Geography from the University of Washington with a minor in Urban Design and Planning and specializes in geospatial data science. If you have a hardware performance question or an interesting data set Thomas has you covered.
Latest posts by Thomas Ryan (see all)