Taiwanese cooling and gaming peripheral company, Thermaltake announced two new coolers today. Both carry the brand name Contac and are based on a triple heat-pipe design. The senior model, the Contac 39, differs from the lower end model in one major way; it has two fans, rather than the single fan found on the Contac 30. Consequently, Thermaltake rates the cooling capacity of the Contac 30 at 150 Watts and the Contac 39 at 180 Watts.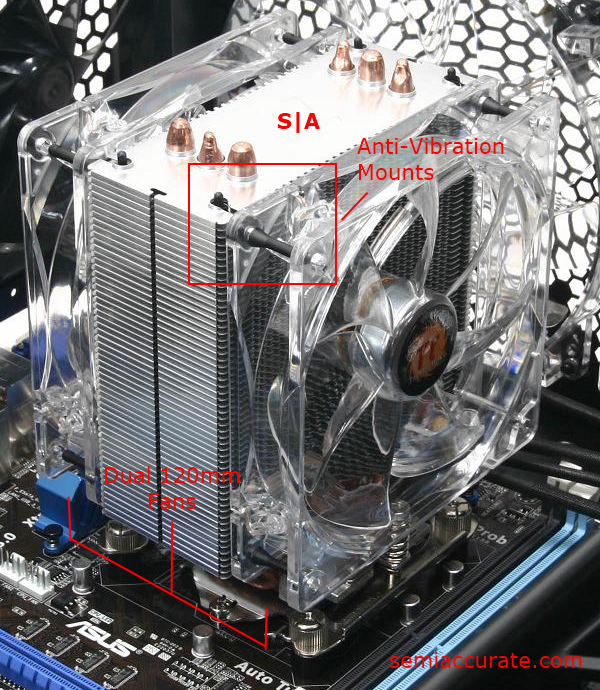 Now the more clever readers might have already questioned why anyone would buy the Contac 39 when you can just buy the Contac 30 and slap another fan on it? Well that answer is relatively simple and it has to do with the fan design that Thermaltake used on these two coolers. The fans are made of a clear plastic and have a special blade design which Thermaltake claims reduces the noise profile of their cooling solutions compared to those with traditional blades. The only other issue your cunning plan might run into is mounting the fan, because while the mounting slots for a second fan are still present on the Contac 30, you won't have enough of Thermaltake's rubber anti-vibration mounts to attach the second fan. Oh, and the shade of blue LED on your aftermarket fan might not match that of Thermaltake's fan…
Basically, adding a second fan yourself may seemed like a good idea to save money, but unless you're willing to make a few compromises, then Thermaltake's just upsold you into the Contac 39. (No DIY FUD there, Eh?)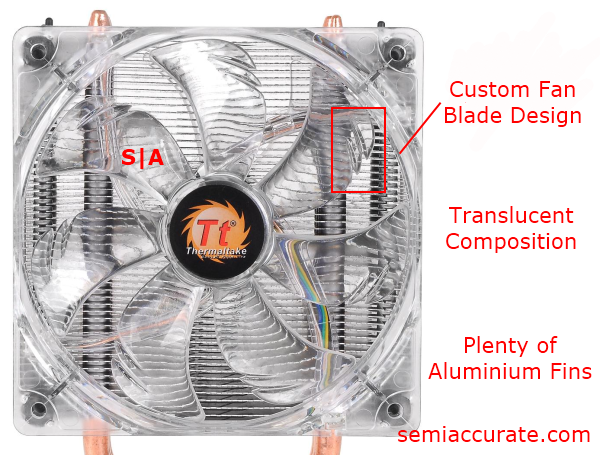 In any case the feature that really makes this otherwise unremarkable pair of coolers interesting is the three copper heat-pipes that are directly exposed at the base of the cooler. This is a design that's really starting to come into the mainstream. In addition to the exposed heat-pipes Thermaltake gave this cooler a big leg up on its competition by using rather beefy 8mm heat-pipes rather than the more common 5mm heat-pipes like those used on the Frio Advanced from last week.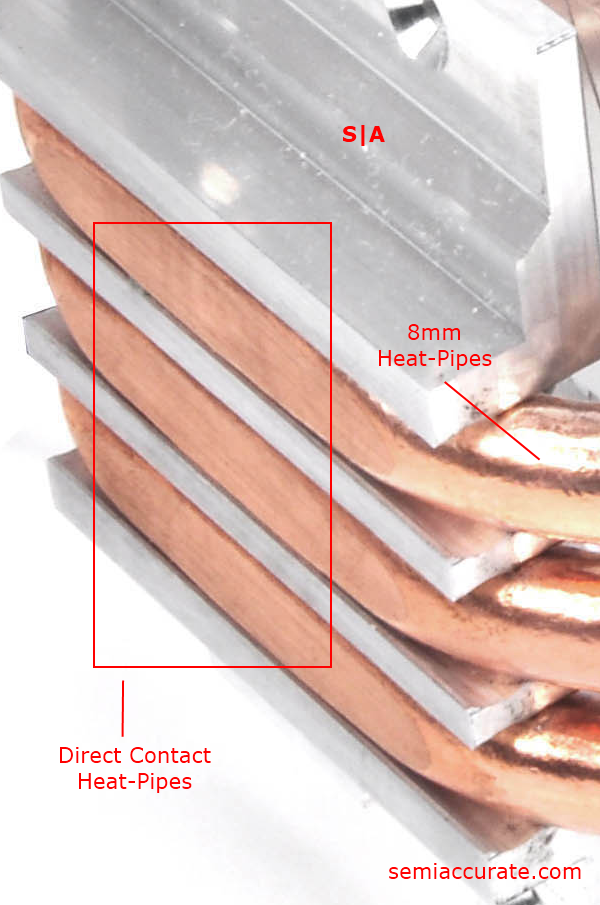 These two new models seem to be a competent addition to Thermaltake's current Contac line up. With a max noise output of 33.2dBA and universal socket compatibility Thermaltake is water-falling quiet a few features down from it's high-end to revamp what it calls a "low cost solution". Thermaltake didn't give a specific date for availability but did mention adding these two coolers to their "fall" line-up, so look for availability shortly.S|A
Updated: 1 November 2011.  Replaced picture with spelling errors with corrected spelling.  Apologies.

The following two tabs change content below.
Thomas Ryan is a freelance technology writer and photographer from Seattle, living in Austin. You can also find his work on SemiAccurate and PCWorld. He has a BA in Geography from the University of Washington with a minor in Urban Design and Planning and specializes in geospatial data science. If you have a hardware performance question or an interesting data set Thomas has you covered.
Latest posts by Thomas Ryan (see all)