Gigabyte was showing off not one, but four X79 based boards at IDF. For enthusiasts, the next big thing is coming soon after a long long delay.
In case you have been under a rock for the last two years, the Sandy Bridge based upgrade to the X58/Westmere high end server/gaming parts from Intel has been completely MIA. What was supposed to be a fall 2010 product is now a winter 2011 product, and not quite fully baked at that. While my fears about the quality of the shipping Sandy-E chip have been pretty much assuaged, the whole thing is turning in to a rather uncharacteristic stumble for Intel.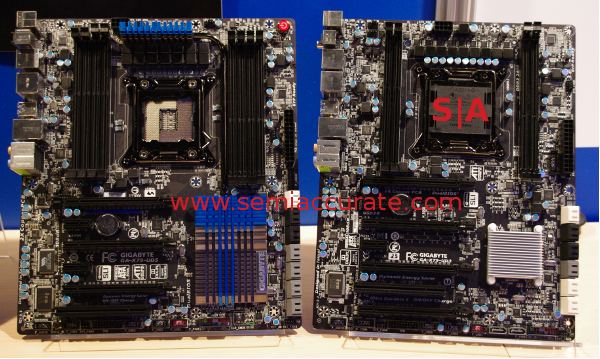 The 'low' end high end boards
Luckily, the boards and the chips that Gigabyte are showing off are really cool, and have none of the hiccups that the CPUs do. Above, you see the two 'low' end parts, if any X79 board can be low end. On the right you have the GA-X79-UD3, the 'value' board. It has 8-phase power, CrossfireX/SLI support, PCIe3 support (Sort of, but that is Intel's fault, not Gigabyte's. The boards work just fine.), USB3 ports aplenty, and SATA6 support, and Dolby sound. This is on top of the normal goodies that the socket 2011/Sandy-E platform brings, like four memory channels.
The GA-X79-UD5 on the left is a step up from the UD3, it adds three things to the feature list. First is the the obvious one, 8 DIMM slots. That means two DIMMs per channel not one per channel like the UD3. The ability to upgrade memory on a board like this seems like a must-have feature, so I would definitely go for the UD5 over the UD3. It also adds 12-phase power and support for 3 way CrossfireX and SLI. Ironically, the UD3 has four PCIe 16x slots while the UD5 has three, but the UD3 can only do 2-way Crossfire/SLI. Sigh, product development……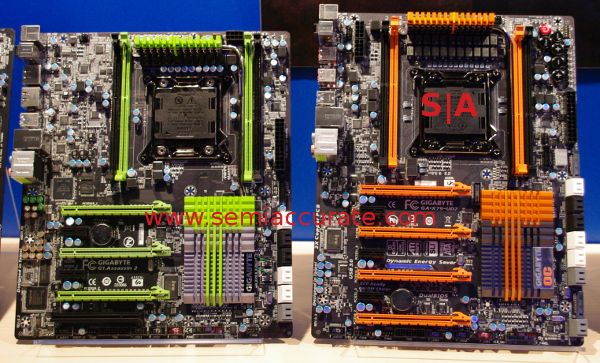 The high end high end boards
Moving up from there, we have the GA-X79-UD7 on the right, and the G1.Assassin 2 on the left. The UD7 is, wait for it, a step up from the UD5, and it delivers the goodies. This one has 20-phase power delivery and support for 4-way CrossfireX and SLI, but only four DIMM slots. Once nice touch is that the PEG power delivery is beefed up for OCing GPUs, so if that is your passion, this might be useful.
The nice stuff is in the added features, OC Touch, OC Cooling, and OC DualBIOS. Touch is a marketing name for the seven buttons in the top right, power, clear CMOS, two sets of faster/slower buttons, and a blue one that we don't have a clue about what it does. It is blue though. OC Cooling means there are seven 4-pin fan headers so you can play with cooling settings until you get bored, and the OC DualBIOS lets you set your OC settings, and swap back when things get ugly ala recent ATI cards. The only thing this board lacks is 8 DIMM slots, but that will probably happen in the next rev.
The G1.Assassin 2 is something similar to a UD6 board with a lot of extra goodies. It is made for gaming, not OCing, but it will probably OC fairly well too. It has 8-phase power with all solid Japanese caps and other similarly high quality components. There is support for 3-way CrossfireX and SLI, along with 4 DIMM slots. The 'extra' features that this board brings are nice, a full hardware Creative X-Fi chip with Nichicon MUSE audio caps, and a Bigfoot Killer NIC E2100.
All in all, Gigabyte seems to have the most comprehensive X79 lineup SemiAccurate has seen so far. They go from low to high end on the speed freak scale, and cover most of the bases between with the UDx line. The Assassin checks off basically all the gamer features, and throws in a lot of OC ones as well. Which is right for you? That is your problem, I know what I want.S|A
The following two tabs change content below.
Charlie Demerjian is the founder of Stone Arch Networking Services and SemiAccurate.com. SemiAccurate.com is a technology news site; addressing hardware design, software selection, customization, securing and maintenance, with over one million views per month. He is a technologist and analyst specializing in semiconductors, system and network architecture. As head writer of SemiAccurate.com, he regularly advises writers, analysts, and industry executives on technical matters and long lead industry trends. Charlie is also available through
Guidepoint
and
Mosaic.
FullyAccurate
Latest posts by Charlie Demerjian (see all)