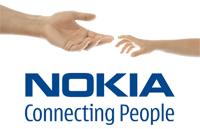 On June 14th Bloomberg News reported Nokia Wins Apple Patent-License Deal Cash, Settles Lawsuits. Since then a heavy discussion of what happened has been going on all over the internet. Almost every news site has carried some variation on the story.
Exactly what this meant to Nokia Corporation (NYSE:NOK) and  Apple Inc. (NASDAQ:AAPL) however was less than clear to everyone, and unanswered questions remain.
What did happen?
Curiously, no one knows except Nokia and Apple.
Seriously.
Nokia has issued a press release. Apple is rumored to have made a statement. Note the use of the word "rumored" as there is nothing on any of Apple's official websites. So the only proof that anything happened is the Nokia press release. And it doesn't say very much. Out of 1659 words, 1441 make up the disclaimer. We do not wish to disparage the importance of disclaimers, but those words are not relevant to the information presented.  That's right, only 218 words say anything. Those words are:
Espoo, Finland – Nokia announced that it has signed a patent license agreement with Apple. The agreement will result in settlement of all patent litigation between the companies, including the withdrawal by Nokia and Apple of their respective complaints to the US International Trade Commission.
The financial structure of the agreement consists of a one-time payment payable by Apple and on-going royalties to be paid by Apple to Nokia for the term of the agreement.  The specific terms of the contract are confidential.
"We are very pleased to have Apple join the growing number of Nokia licensees," said Stephen Elop, president and chief executive officer of Nokia. "This settlement demonstrates Nokia's industry leading patent portfolio and enables us to focus on further licensing opportunities in the mobile communications market."
During the last two decades, Nokia has invested approximately EUR 43 billion in research and development and built one of the wireless industry's strongest and broadest IPR portfolios, with over 10,000 patent families.  Nokia is a world leader in the development of handheld device and mobile communications technologies, which is also demonstrated by Nokia's strong patent position.
This agreement is expected to have a positive financial impact on Nokia's recently revised outlook for the second quarter 2011 of around break-even non-IFRS operating margin for Devices & Services.
As a press release it is astounding for it's lack of specifics. No mention of exact amount of money. No mention of what is being licensed. In fact it is so lacking in specifics that it seems like something is being hidden. But what?
Investor Relations
The really curious thing is that neither company has anything in their investor relations section on their website. No matter how jaded and cynical you are about government regulators, usually they come down hard on misstatements about financials. Nokia says this is expected to have a positive financial impact on their recently revised outlook for the second quarter of 2011. Note the underlined italic. Don't they know?
And how about Apple? If they are making a large lump sum payment, they should know if it's having any impact, and if it is, they should declare it. But they haven't made any declaration. They've had eight working days to determine if it's going to have an impact. Apple's financial team is has given the impression of being quite talented in the past. It's not as if they don't have computers!
From another point of view, why didn't Apple just buy Nokia? Nokia's market cap is less than $22.0 Billion, and Apple has a $60.0 Billion war chest. One of Apple's problems has always been an inability to produce inexpensive quality product. Nokia produces inexpensive quality product. Nokia is terrible at user interfaces, but there's nothing wrong with their hardware. So why didn't Apple buy them? Currently Apple is loosing market share to Android because of pricing. With Nokia's hardware wizardry Apple would be able to compete with the Android phone OEMS on price, by building a cheaper IPhone 3GS.
Yes, $22.0 Billion is a lot of cash. But think of what you can do if you add Nokia's market share to Apple's. Apple could make significant gains in the market, especially in areas where the company has traditionally been weak. It would also give Apple an alternative to Foxconn Technology Co., Ltd. (2354.TW), who has been an embarrassment because of safety issues at the factory assuming that Nokia wishes to expand their current manufacturing capacity.
Apple's design capabilities, with Nokia's hardware skills, would have given Apple/Nokia a chance to rule the world.
How Much Did Apple Pay Nokia?
This we may never know. Generally when something like this is hidden, it's hidden because it is an embarrassment. This tends to indicate that Nokia did not get any where near as much as they wanted. And it's possible that the United States International Trade Commission is the reason why. It appears that Nokia had been loosing the fight before the ITC.
If you follow the link to the ITC document published in May, it makes a very interesting read. Three of Nokia's patents had been found not to have infringed for various reasons. A further hearing was scheduled, and both parties were to have filed certain documents with the ITC by June 16th.
Then the parties announce a settlement on June 14th.
While it may be impossible to prove, it seems likely that the amount of payment was probably quite small. That it was a token payment. It is quite possible that both sides spent far more in legal fees, in fact a common to such transactions.
But it may be possible. It all comes down to what exactly shows up in the next quarterly reports for both companies. If the payment was significant, it should show up. And it could show up fairly soon. Apple's next quarterly report is due to be filed with the Securities and Exchange Commission on July 21, 2011, and it will be for the quarter ending June 26, 2011. It is possible, though not plausible, that the Nokia payment might show up in that quarter.
It's more likely to show up in Apple's year end report which will be filed October 27, 2011.
But what if it doesn't show up in either?
That is when it get's complicated. Nokia's statement contains enough qualifications that Nokia has effectively said nothing. And by saying nothing, Apple hasn't contradicted Nokia.
It's a really interesting situation. Nokia and Apple are sending someone a message. But who? And what is the message?  Stay tuned.S|A
The following two tabs change content below.
Latest posts by Wayne Borean (see all)