MSI had lots and lots of goodies on display at Computex, and here are a few of the highlights. We will skip the laptops, craptops, and widgets, and show you the mobos and GPUs instead.
The first thing to note is the Big Bang Marshal that we told you about late last year, the 8 slot Z68 board, is now shipping. Get them while they are hot. We won't point out how many PCIe lanes the Z68 chipset has, or mention that you might want to wait until their next two boards are out if you want more than a sane number of GPUs in a machine.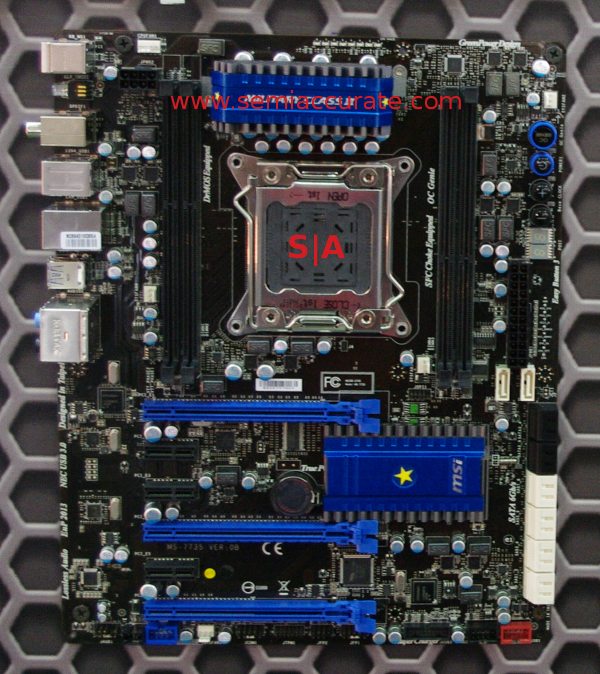 X79 in all it's glory
Yes, MSI had an X79 board on display too, and this one is called the X79A-GD65. It has X-Fi, 10 SATA6 ports, 4 DIMM slots, and three real PCIe slots. If you are serious about GPU performance, this is one of two chipsets to consider. The other is the 990FXA-GD80 below, the AM3+/Bulldozer board in the same class. This one does 3-way SLI and 4-way CrossfireX, and has a lot more bandwidth than the X79, so 4 GPUs are quite doable. What the X79 vs 990FX battle comes down to is raw CPU speed vs connectivity, which one matters more to you?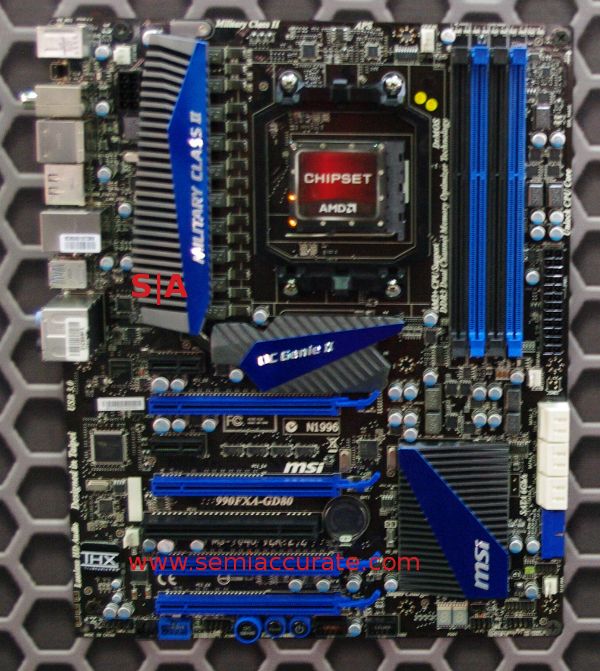 Just waiting for the CPU
So, what's next? How about PCIe3? Yeah, the next gen of storage is here, or at least half here. The MSI Z68A-GD80 is fully PCIe3 capable, the problem is that the only chip you can plug in to it is not. Sandy Bridge does do PCIe3, but Intel in it's infinite wisdom is not turning it on. I guess they want to sell us Z69 boards in a few months. That said, the boards are ready whenever Intel feels generous, or Ivy Bridge comes out.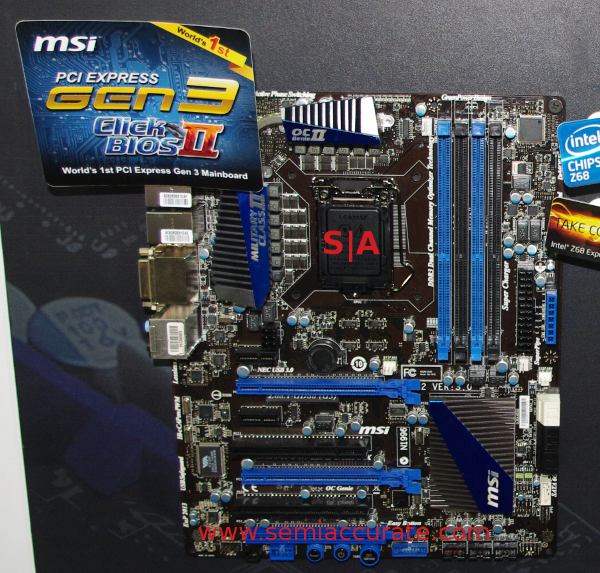 PCIe3 at long last, or half of it
Moving on to GPUs, we are in the long wait until the next gen parts come out, Q1/2012 at the earliest, but innovation continues. MSI's N580GTX Lightning Xtreme Edition is just what it sounds like, a high end OCing 580GTX/3GB. There are two nifty features on this one, when you turn it on, the fans spin backwards to blow dust out and keep the heatsinks tidy. Not exactly groundbreaking tech, but really useful. The other bit to note is the blue fans. They are color changing, and when the ambient temps hit 45C, they will turn white.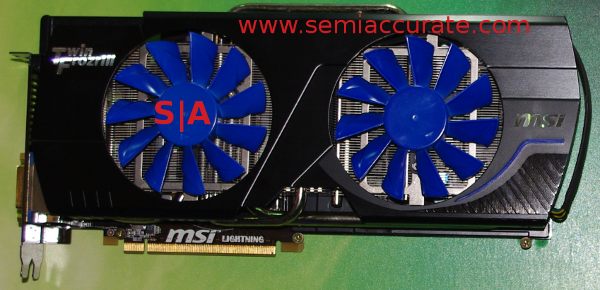 If these are white, you need air conditioning
Last up is the Afterburner utility controlled by an Android phone that Mads wrote about yesterday. Two neat bits to add, one is that it is a PC to PC direct link, not over the net, and fully secured, not that it matters much. The other bit is that it works in real time, so you don't have to drop out of a benchmark to adjust the settings. This is really handy, it allows for a lot of fine tuning on the fly, and the hardcore set will really like it. In use, it looks like this.S|A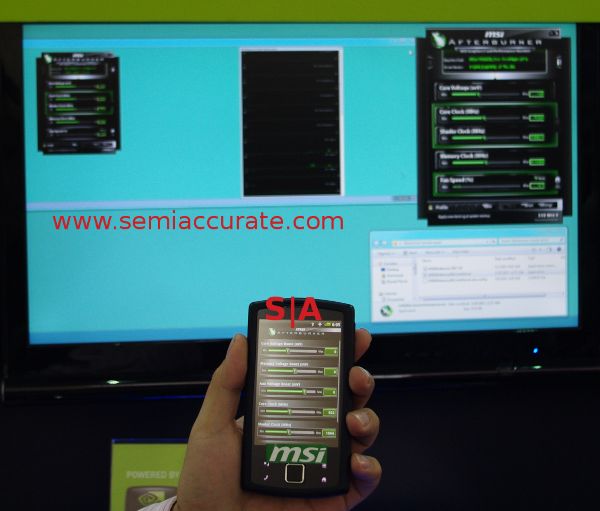 This is the droid you are OCing for
The following two tabs change content below.
Charlie Demerjian is the founder of Stone Arch Networking Services and SemiAccurate.com. SemiAccurate.com is a technology news site; addressing hardware design, software selection, customization, securing and maintenance, with over one million views per month. He is a technologist and analyst specializing in semiconductors, system and network architecture. As head writer of SemiAccurate.com, he regularly advises writers, analysts, and industry executives on technical matters and long lead industry trends. Charlie is also available through
Guidepoint
and
Mosaic.
FullyAccurate
Latest posts by Charlie Demerjian (see all)