Thermaltake had a bunch of new goodies at Computex, from coolers to cases, and a lot of other toys. On top of that, they are showing off a few prototype lines as well.
The first new bits are in their TTesports line, and it is a keyboard called the Meka G-Unit and a new Shock Spin headphone. No laughing all you 50 Cent fans, this one is the follow on to the Meka G1, basically a new design with a lot more comprehensive software and macro support. It also has a thinner detachable cloth wrapped cable. The Shock Spin HD is like the Shock Spin but with 7.1 sound capability instead of the older 5.1.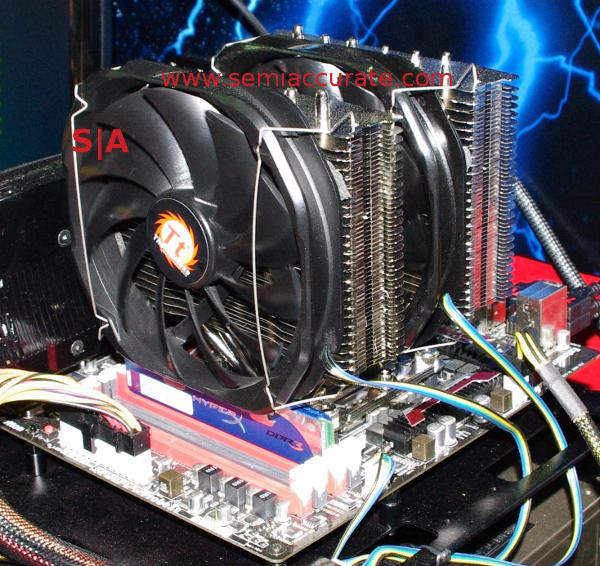 Big Frio Extreme
On the cooler front, there are several new variants, but two really stand out, the Frio Extreme, and the Frio GT. The Frio Extreme is a 2 fan, 2 heatsink, very big CPU cooler. It is…. err….. large, but will cool up to 250W. Not bad for $89. If you have a really big case though, the Frio GT is even bigger, about twice as large. It may look like 2 VGA coolers, but it is just one CPU cooler. The Extreme is out now and the GT is a little further from the shelves.
Silly big Frio GT
On a happy note, Thermaltake seems to be getting back in to water cooling. First you have the Bigwater A80, a large copper heat plate with a remote radiator/fan combo. This one has a spacer between the radiator and the case to lower pressure, and is probably fairly efficient and quiet. Slightly more exciting is the new Bigwater 760 plus, basically a Bigwater 760 with water and fan speed adjust. This hasn't been green lighted for full production yet, but we can hope.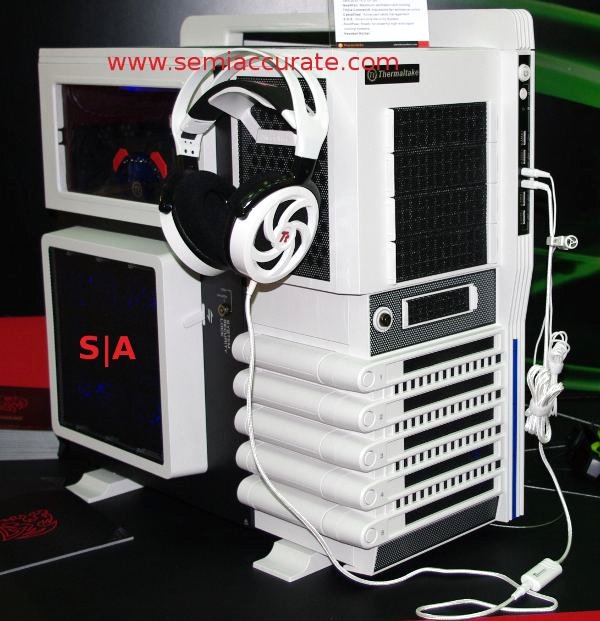 Level 10 Snow…. Drewl
White cases seem all the rage now, and the Level 10 GT case now has a Snow edition. It is white with a bit of black inserts, and it looks really sharp. Go buy two, now. No, buy three, they are white, but not an iProduct, how can you lose?
There are several variants of the new gaming cases as well, with the Overseer RX-1 being a 'gaming' case in the same vein as the older Chaser MK-1. They are both 'not Starcraft inspired', and look the part. If there is ever a 'not Zergling' edition, be wary of things in the case, those little buggers are harder to kill than bedbugs. It has all the usual goodies of a mid-range gaming case, including the now mandatory HD dock on top. Should that not be enough, there will be a BlacX Duet 5G shipping soon. I want one.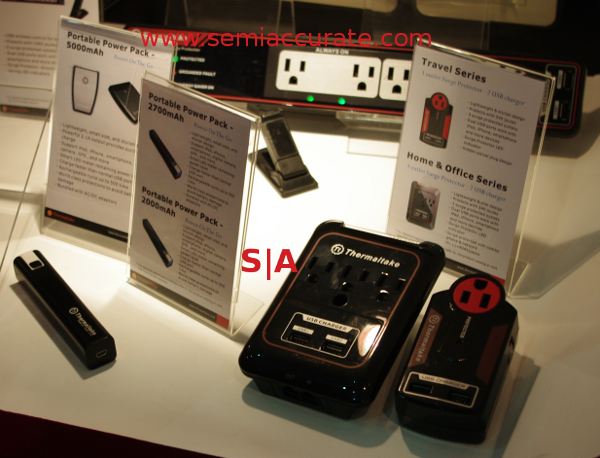 Lots of low power ports
Last up, we have a line that also is still in the prototype stages, USB chargers. Powerstrips with two USB ports, battery packs with USB phone chargers, and even a few outlet pass-throughs with chargers are under consideration. With the standardisation of phone chargers and tablets, these could make life easier for the road warrior.S|A
The following two tabs change content below.
Charlie Demerjian is the founder of Stone Arch Networking Services and SemiAccurate.com. SemiAccurate.com is a technology news site; addressing hardware design, software selection, customization, securing and maintenance, with over one million views per month. He is a technologist and analyst specializing in semiconductors, system and network architecture. As head writer of SemiAccurate.com, he regularly advises writers, analysts, and industry executives on technical matters and long lead industry trends. Charlie is also available through
Guidepoint
and
Mosaic.
FullyAccurate
Latest posts by Charlie Demerjian (see all)