It's almost hard to believe, but Samsung has announced not one, but three new business notebook ranges and they really look like they'll give the competition a good run for their money. The new models range from 12.5-inches through to 14 and 15.6-inches, with entry level models sporting Intel Celeron processors while the high-end models come with Core i7 processors.
Samsung has been a little bit coy with the details of exactly what is on offer, especially with regards to which CPU's well see in the new notebooks. The most basic models make up Series 2 which consists of a 12.5 and 14-inch model. The 12.5-inch SKU features an unspecified Celeron processor, up to 4GB of RAM and up to a 320GB hard drive while the 14-inch model comes with a Core i3 processor, but otherwise the same options.
The Series 4 brings things up a notch, although the screen sizes remain the same, both models are available with a selection of Core i3, i5 and i7 processors and the 12.5-inch model doesn't appear to have a quad core option while the 14-inch model does. Samsung will offer the Series 4 with up to 6GB of RAM and 500GB of hard drive space as well as a 6-cell battery said to be good for up to 7h of usage.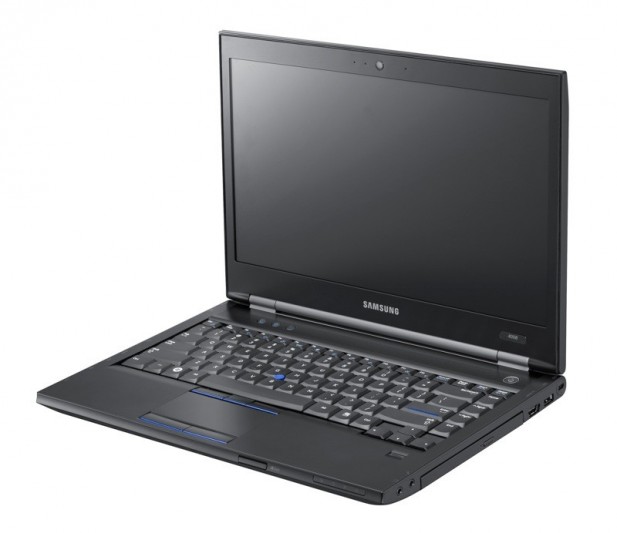 Finally Series 6 comes in 14 or 15.6-inch sizes, again with a selection of Core i3, i5 and i7 CPUs, but this time around you get 4-8GB of RAM as standard and these models are offered with an SSD option of either 128 or 256GB. All six models rely on Intel graphics and come with Windows 7 Professional, although the Series 6 also has the option of an Nvidia Quadro NVS 4200M discrete solution with Optimus graphics switching.
Other features include USB 3.0 connectivity which is a first for a business notebook as far as we're aware, a 1.3 Megapixel webcam and a built in array microphone setup. Judging by the pictures, at least some models will also have an eSATAp port and built in optical drives. Both a touch pad and a track point are offered and Samsung has gone for a traditional style keyboard rather than one of the new-fangled chicklet ones. The Series 6 also has a magnesium alloy reinforced chassis for better durability. The Series 4 and 6 models also come with features such as fingerprint scanners and TPM chips, while the Series 6 models also get Intel vPro support.
Samsung didn't announce pricing for its new business notebooks, but all three lines come with a standard three year warranty and the Series 2 and 4 will arrive sometime next month with Series 6 following sometime in May.S|A
The following two tabs change content below.
Latest posts by Lars-Göran Nilsson (see all)