THECUS IS DOING something that is long overdue, going to a common platform for their NAS boxes, simplifying a lot of software and management issues. Coincidentally, they are are also updating their NAS boxes at the same time.
The new line has an XXX suffix, and they are distinguished from the normal products by a common logic board. Each one has an Atom D525 dual core CPU at 1.8GHz, usually backed by 1GB of DDR3. These products go from two drive NAS boxes all the way to five, and likely higher when the bigger boys get refreshed.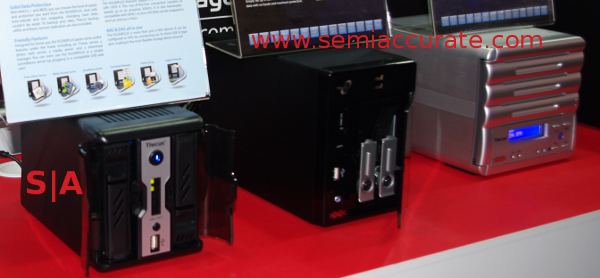 N2200 Plus, N2200XXX, and the N3200XXX
One new model that is not on the same Atom platform is the N2200 Plus, it has a Cavium ECONA with 256K of DDR2. Next to it are the N2200XXX and the N3200XXX, two and three drive variants of the D525 platform. The Plus should be cheaper, but the XXX's should have a lot more features and higher performance.
One really nice thing about the N3200XXX is the lack of drive cages. All of the non-entry level Thecus products to this point have had a hot swap drive bay setup with requisite 3.5″ trays. N3200XXX has no drive trays allowing you to pick either a 3.5″ or 2.5″ bay enclosure. What a portent for the near future that is, eh?
Moving up from there, the 4200 line has a had Atoms on board for a while, with the low end N4200 sporting a D510, the N4200Pro and N4200Eco both have the D525. The vanilla N4200 and Pro both have one really nice feature a mini-UPS on board. This isn't meant to keep things alive for weeks, just long enough to sense power failure, save out buffers and caches, and shut down in an orderly fashion. That little uptime can save a lot of headaches with corrupted drives. The N4200Eco has all the Pro's updates, but lacks the UPS.
The top end board with the D525 is the N5200XXX, the N7700Pro currently has a Core 2 Duo at 1.66GHz, it needs the power. It will be interesting to see how much Atom can move up when Oak Trail finally arrives. Lines like this are a very good indicator of raw CPU horsepower.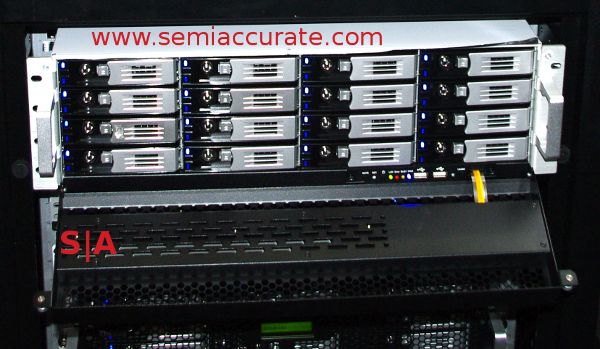 Drewl
If 7 drive tower NAS units are not enough for you, but your budget is not deep enough to buy a high end array from the big boys, the Thecus N12000 and N16000 are for you. If it isn't obvious, they are 12 and 16 drive NAS/SAN/iSCSI boxes with all the bells and whistles, but not the silly prices the segment usually commands.
The N16000 is a server with a lot of drives and pre-loaded software. It has a full Xeon X3480 CPU and 8GB of DDR3 to keep things snappy when you want a file. There are two 1GigE ports on the back side, and a slot to take a 10GigE card if you want. The N12000 'only' has an X3480 and 4GB of RAM though, but that should be enough for most.
One thing they both have is SAS support as well as SATA. If you are serious about storage, and this class of machine is where they home user tends to get weeded out, you probably want SAS for reliability and speed. The LSI controller on these units can do both, and do it at speed.
Both units support high availability, and can be paired for instant hot failover should you want that reliability. The N12000 costs around $4000, add about $1000 for the N16000. This may seem like a lot to the HTPC crowd, but it is about 1/3 the price of the same capacity from the storage giants. Not a bad deal no matter which way you look at it.S|A
The following two tabs change content below.
Charlie Demerjian is the founder of Stone Arch Networking Services and SemiAccurate.com. SemiAccurate.com is a technology news site; addressing hardware design, software selection, customization, securing and maintenance, with over one million views per month. He is a technologist and analyst specializing in semiconductors, system and network architecture. As head writer of SemiAccurate.com, he regularly advises writers, analysts, and industry executives on technical matters and long lead industry trends. Charlie is also available through
Guidepoint
and
Mosaic.
FullyAccurate
Latest posts by Charlie Demerjian (see all)