APPLE HAS JUST announced its new iPad 2 and we're looking at some pretty decent improvements overall with new dual core processors, nine times faster graphics and a 33 percent slimmer design that even weighs less than the original iPad. Apple even seems to have addressed most of the flaws that the original iPad came with, such as including cameras and hold on to your horses, there'll be a white version shipping from day one.
Ok, so we're taking the piss slightly here, (1) but it really looks as if Apple has addressed most, if not all of the issues that made the original iPad seem half baked. For starters the new dual core A5 ARM based processor should bring Apple's new toy up to speed with its competitors.  Those competitors are just now trying to get a foothold in the market, mostly with Tegra 2 based tablets. The A5 is running at 1GHz and Apple claims that the A5 is up to twice as fast as the A4, although simply adding a second core wouldn't do this on its own, unless Apple's iOS is very good at taking advantage of the second core.
The graphics are presumably the latest and greatest graphics core from PowerVR, most likely a multi-core option.  This leads us to believe it's a Series 5XT/SGXMP part that Apple has added to the A5. The A5 is meant to use no more power than the older A4 and as such we're still looking at 10h of battery life. Apple did of course make a snarky remark about the iPad 2 being the first dual core tablet to ship in volume.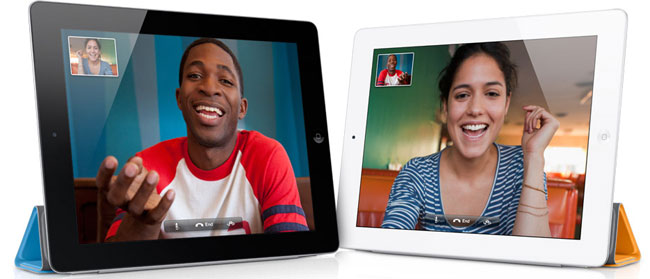 Somehow Apple managed to make the iPad 2 much thinner than its older sibling, as the iPad 2 is a mere 8.8mm thick, compared to 13.4mm for the old iPad. That's in fact half a millimeter thinner than the iPhone 4 which is a pretty impressive feat on its own. Weight wise we're looking at a 601g (1.33lb) device, again down compared to the old iPad at 680g (1.5lb).
Cameras includes are one on the back and one on the front. The rear camera shoots video at up to 720p 30fps, but Apple forgot to mention the actual still resolution. The front camera is of VGA resolution and again records 30fps. The front camera is intended to be used with Apple's FaceTime video calling app as well as a new app called Photo Booth. Apple also announced a new version of iMovie for the iPad 2 that's meant to take advantage of the new powerful processor and it'll set you back $4.99. Of all the rumors about SD card slot and Thunderbolt inclusion proved to be a dud, but then again, it wasn't as if we really expected either to be part of the iPad 2.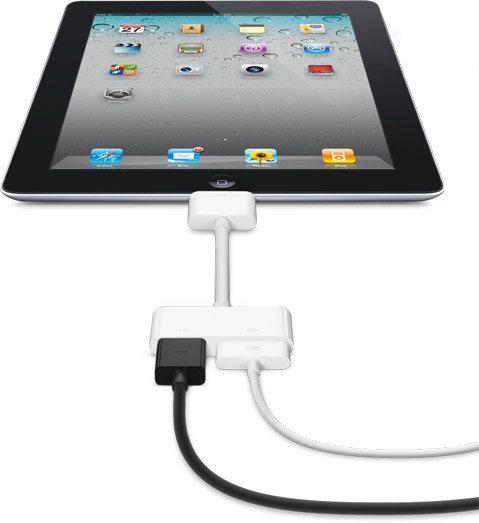 The somewhat less impressive includes Apple's $39 HDMI dongle. This may be a useful addition for media player use or for presentations on a large screen TV or projector, we just can't believe how tacky it is. The dongle connects to the dock port on the iPad 2 and it not only gives you an HDMI port, but it also replicates itself, so it's a huge connector that just begs to be one of those adapters that dies a quick death. Apple's reasoning is that it allows for the iPad 2 to be charged at the same time that you're outputting to an HDMI device. Well, we're not sold on this one, despite its obvious usefulness.
Apple has also come up with a cover for the iPad 2, which looks rather naff (1), although very functional. It clips on to the side of the iPad 2 with the help of magnets and it has a hinge mounted on the side. It also folds in three pieces which allows it to be used as a stand for the iPad 2. Inside it has a microfiber coating that can be used to clean the screen and Apple will offer five models in polyurethane and five in leather, of course in different colors. The polyurethane covers are $39, while the leather ones are $69 each.
A lot of features are of course carried over such as 802.11a/b/g/n Wi-Fi support, Bluetooth 2.1 + EDR, the 9.7-inch 1024×768 screen, a 3.5mm audio jack, three-axis gyro, accelerometer, ambient light sensor and digital compass. The 3G models also have A-GPS support, something the Wi-Fi versions weren't equipped with this time around either. Apple will offer two different 3G models, one with support for the 900, 1900 and 2100MHz UMTS bands with support for HSDPA and HSUPA, as well as quad band GSM and a special version for its new best buddy Verizon that supports CDMA EV-DO Rev. A at 800 and 1900MHz.
All models will be available in 16, 32 and 64GB and you're looking at a price for the Wi-Fi models starting at $499 for 16GB, $599 for 32GB and $699 for 64GB. The 3G models start at $629 for 16GB, $729 for 32GB and finally $829 for the 64GB model. Availability in the US will be from March 11th with most of Europe as well as Mexico, Japan, Australia and New Zealand following on March 25th with other nations following at a yet unannounced date.S|A
(1) Lars-Goran fancies himself British.  The Ed doesn't know how to replace British slang.

The following two tabs change content below.
Latest posts by Lars-Göran Nilsson (see all)